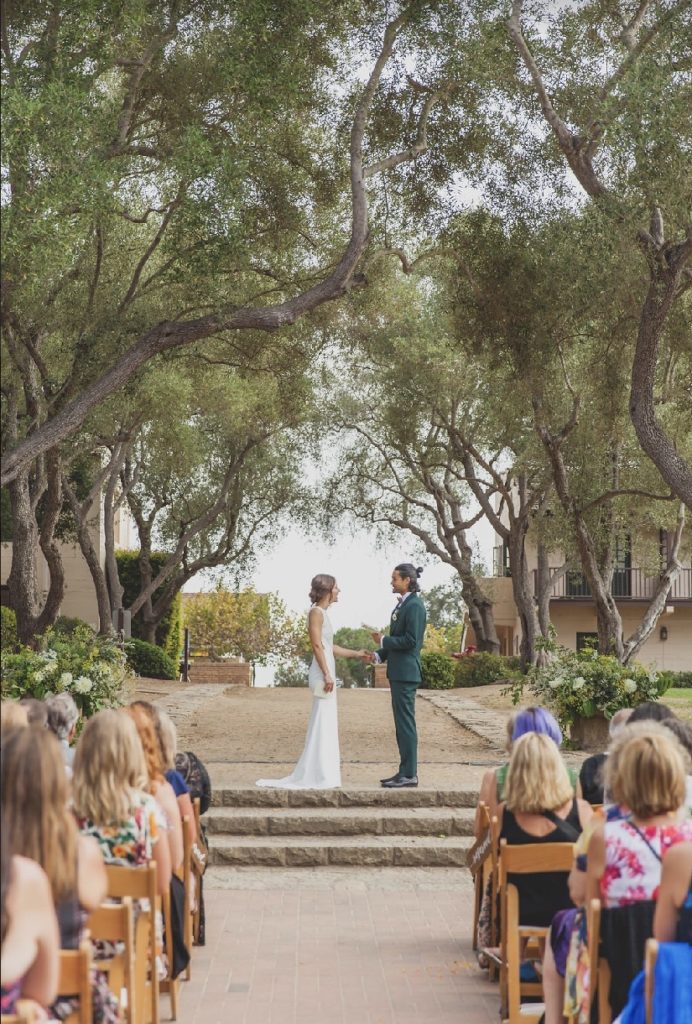 This wedding had a few special twists:  not only was it hosted at one of the finest prep schools in our nation, the wedding couple partook of a lovely tea ceremony while guests relaxed floorside on comfie pillows under the sky.  They also provided their own overlays for the reception tables:  souvenirs they acquired during their travels, bringing a personal touch to their wedding day story.   The colors for this wedding were magnificent and were only rivaled by the vibrant joy of the the newlyweds and their guests, as evidenced in the photos.
Olivia and Ashwin  requested an all vegan/vegetarian wedding.   With all the abundant ingredients and luscious flavors available for some vegetarian deliciousness in Southern California, this menu was a Vegan/Vegetarian's delight.  We loved producing it!
Congratulations to Olivia and Ashwin!
Menu Story Highlights from this Vegan / Vegetarian Wedding: Tray-Passed Hors D'Oeuvres: Zucchini and Goat Cheese Tartlets; Belgian Endive with Mashed Avocado and Goat Cheese, Roasted Beets and Honey Drizzle;  Flatbreads: Herb Crust with Roasted Tomatoes Sauce, Kalamata Olives, Fresh Arugula and Buffalo Mozzarella; White Bean and Rosemary Tapenade on Pita Chip | Dinner Menu (Family Style Service):  Panzanella Salad with Cucumbers, Fresh Ripe Heirloom Tomatoes, Ripe Olives, Red Onions and Fragrant Basil on a Bed of Arugula; Garlic Bread, Ricotta Ravioli with Pesto Sauce and Shaved Zucchini; Broccolini and Butter Beans, Sautéed Blue Lake Green Beans with Shallots, Quinoa Salad with Roasted Pistachios | Dessert & Coffee | Cupcakes Provided by Crushcakes | Fresh Seasonal Berries with Fresh Whipped Cream
Event Partner Team:  Venue:  Cate School | Catering:  Catering Connection |  Rentals:  Ventura Rental Party & Events | Lighting:  SPARK Creative Events |  Overlays: provided by couple from their travels |  Florals:  Ojala Floral | Wedding Cake:  Crushcakes |  Photographer and Videographer:   Yours Truly Media | Music:  Matt Graumann | Childcare:  Nannies 2 Go |