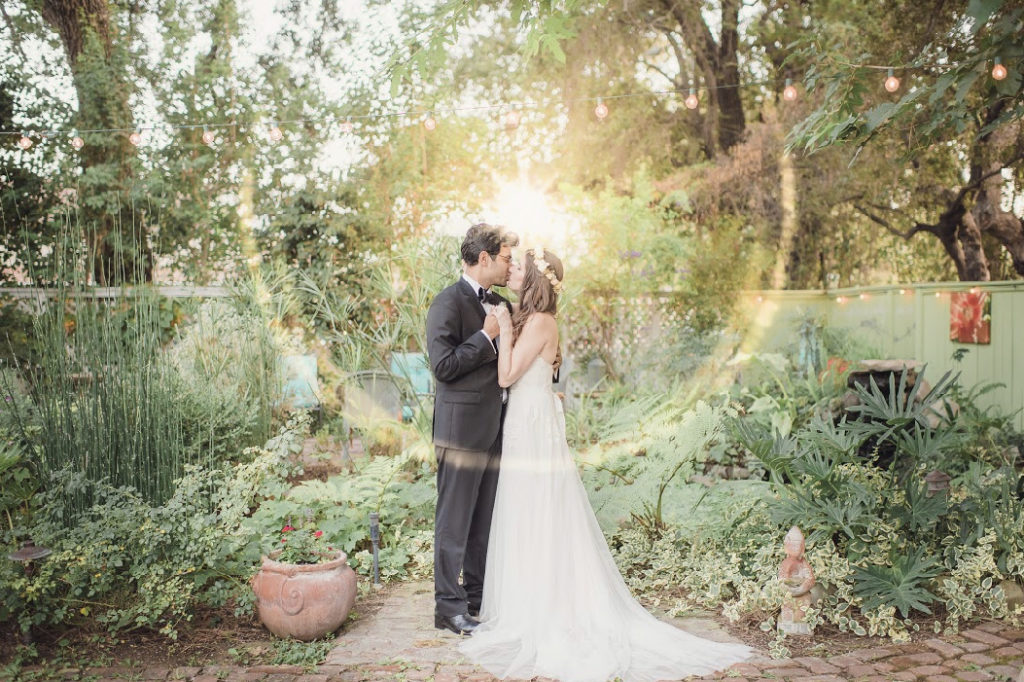 Tucked away in the charming town of Ojai (just a half hour south of Santa Barbara and East into the hills overlooking the Topa Topa Mountain Range) life is a bit more relaxed.   The sunsets up here are known as "pink moments" as the sun casts a colorful display on the mountain range that cradles the small city.   From art galleries, wine tasting rooms, quaint shops and more, Ojai is a get-away paradise for those seeking some quiet and to reconnect with the beauty of nature.
The Lavender Inn is located in a convenient downtown Ojai location and its outdoor garden has hosted many weddings over the years.  The best part is that the wedding couple and many of their guests can stay on location, making enjoying your wedding day a breeze.   We have catered many weddings there over the years and love the charm and privacy it affords.  Intimate weddings are their specialty.  It is especially gorgeous in the summer when Ojai can heat up a bit but the shade from the cascading trees landscaping the garden is cooling and a true oasis.
Producing Tracy and Nishith's wedding was – as always- a collaboration of other fine event professionals, and we loved helping create a wedding menu story that went with a gorgeous garden wedding experience in this setting and reflecting the taste of the bride and groom.
Menu Highlights: Hors D'Oeuvres: Vegetable Spring Rolls with Plum Dipping Sauce; Crushed Fava Beans and Burrata Crostini; Warm Brie and Dried Apricot Filo Tartlet with Toasted Almonds; Watermelon Salad  with Feta Cheese, Fresh Mint and White Balsamic Vinegar Reduction | Dinner Menu- First Course: California Baby Field Greens Crumbled Feta Cheese, Roasted Santa Barbara Pistachios & Fresh Strawberries with Champagne Dressing | Entrées & Sides:  Sweet Pumpkin Ravioli in a Burnt Sage Butter Grilled Polenta Cake Topped with Vegetable Ratatouille & Fontina Cheese; Wild Mushroom Risotto with Wild Mushrooms, Green Peas, and Fresh Parmesan;  Grilled Vegetable Platter with Seasoned Eggplant, Red & Green Bell Peppers, Zucchini, Yellow Squash & Red Onions with Rosemary and Garlic; Grilled Asparagus with Confetti of Red Peppers | Dessert & Coffee- Mini Dessert Buffet- Flourless Chocolate Cake ; French Macarons Assorted Flavors: Mocha, Chocolate, Pistachio, Raspberry, Vanilla, Lemon Lemon Curd Tartlets with Raspberries ; White Chocolate Cups with Dark Chocolate Mousse Mini Crème Brûlées Vanilla  | Wedding Cake provided by Delicious Artistry
Event Partner Team:  Venue:  Lavender Inn | Catering:  Catering Connection |  Rentals:  Ventura Rental Party and Events |  Florist: Jocelyn Kellogg | Photographer:  Sun and Sparrow |  Videographer: A Sunny Day Productions | Ceremony Music: Angelic Strings |  Reception Music: VOX DJs | Hair/Makeup:  Cheek to Cheek Artistry |  Cake:  Delicious Artistry