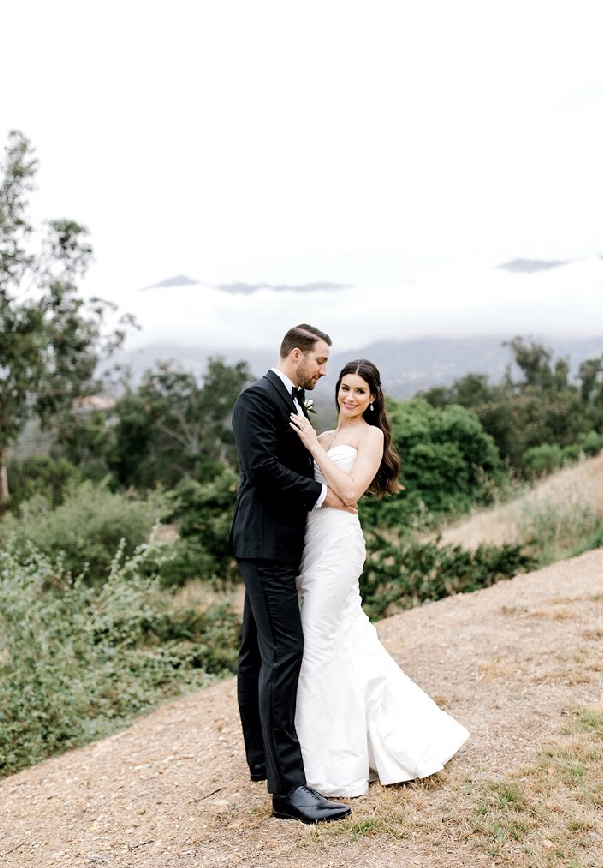 They say necessity is the mother of invention.  They also say that rain on your wedding day is good luck.   Angela and Julian got to experience both on their wedding day at QAD's corporate headquarters which overlook the stunning Santa Barbara coastline.
As experienced event professionals, we are used to accommodating last minute changes and adjustments, so when the skies opened and started raining 30 minutes prior to ceremony start time, our team quickly jumped to action and packed the entire ceremony site to move it upstairs and indoors to the main lobby.   Dinner was provided under one of the existing awnings.  Necessity created the invention of new locations very last minute, and all went well, with happy and glowing bride and groom.
One of the special elements of Angela and Julian's love story is that Julian was serving our country in the military and the wedding had to wait until he got home, which only made this celebration all the more joyful and special for guests (and for us)!
As if on cue, the clouds pulled back from time to time to allow for some lovely photo opps (see below) with peeks of the ocean rolling below, while our succulent Tri-Tip and Char-Grilled Salmon (see full menu below) delighted guests' palates and Angela and Julian joined friends and family on the dance floor under the stars.  A truly memorable wedding event.
Heartfelt congratulations to Angela and Julian in their new life together!
Menu: Elegantly Displayed Hors D'Oeuvres: Artisan Cheeses and Cured Meats, Salamis and Paté, Served with Crisp Cornichons, Kalamata Olives and Dates, Dijon Mustard and Salted Butter, Seasonal Fruits, Assorted Nuts, Fig Preserve and Local Honey;  Crusty French Breads, Lavosh and Assorted Crackers | Tray-Passed Hors D'Oeuvres- Hickory Bacon-Wrapped Dates with Almonds; Jumbo Cajun Shrimp with Avocado Crema; Steak Bites with Blue Cheese & Cilantro Pesto Dips; Artichoke Fritters with Béarnaise Sauce  |  Dinner Menu- First Course:  Panzanella Salad with Cucumbers, Fresh Tomatoes, Ripe Olives, Red Onions and Fragrant Basil | Entrée- Choice of-Roasted Espresso Rubbed Tri Tip with a Balsamic Reduction, Fresh Parsley and Horseradish Cream or Char-Grilled Salmon with Chili-Lime-Cilantro Butter with Creamy Risotto and Vegetable Bouquet Wrapped with Fresh Chive, Pink Salt or Vegetarian Entrée- Meyer Lemon and Arugula Ravioli Lemon Butter Sauce with Asparagus Tips | Dessert & Coffee–  Wedding Cake (3 Tiers): White Cake with Lemon Bavarian Cream, Chocolate Cake with Chocolate Mousse; Sweet Treats Display:  Italian Cannoli; Lemon Curd Tartlets with Raspberries; Amaretto Chocolate Mousse Cup; Coffee Station- Coffee Service Freshly Brewed Regular and Decaffeinated Coffee and a Selection of Herbal Teas
Event Partners:  Venue:  QAD Corporate Offices in Summerland | Catering:  Catering Connection |  Rentals:  The Tent Merchant | Florals:  Ella and Louie | Lighting:  SPARK Creative Events |  Music:  DJ Jerry |  Photographer:  Brooke Borough | Wedding Cake:  Crushcakes |  Hair/Makeup: LaRouge  | Wedding Coordination/Planning:  Felici Events