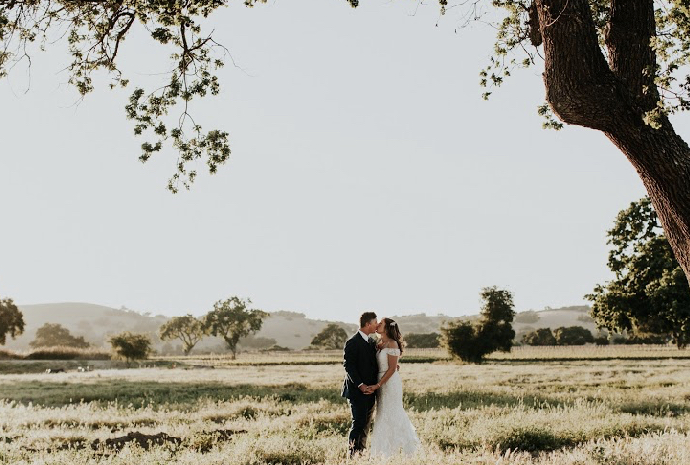 Naya and Kevin are food industry professionals and as such, wanted a more relaxed vibe at their Santa Barbara wine country wedding at the renowned Firestone Winery and Vineyards.  To accomplish this, we did a combination of tables for seated dining, as well as tall cocktail tables for standing, which encouraged more mixing and mingling.  We also provided food stations, which provided guest engagement and delighted the senses, as well as some fun conversation about the featured live flatbread station with onsite wood fire oven (see flatbread menu below). 
The culinary arts are about creating a story – both in service and in the actual cuisine.  Not all events are about 5 course dining and white glove service (although we love those, too).  It is about the host, their style, and how they wish to embrace and entertain their guests.   Naya and Kevin nailed it and could not have chosen a better way for their guests to enjoy the splendor of one of Santa Barbara wine country's most desirable vineyards as well as savoring the company of each other.
We wish them heartfelt congratulations and best wishes in their new life together!
Menu Highlights: Hors d'oeuvres:  Live Flatbread Station with Uniformed Chefs: 1) Herb Crust with Roasted Tomatoes Sauce, Kalamata Olives, Fresh Arugula and Bufala Mozzarella (vegetarian)  2) Parmesan Crust with Sautéed Mushrooms, Caramelized Red Onions, Fresh Rosemary and Grilled Sausage |  Tray-Passed Hors D'oeuvres:  Hickory Bacon-Wrapped Dates with Almonds;  Mac & Cheese Balls with Sharp Cheddar and Smokey Paprika   |   Dinner- Taco Station -(with Uniformed Chef):  Beef Taco Slow-Braised Beef Short Ribs, with Crisp Radish, Red Onion, Avocado Crema and Cilantro Leaves;  Chicken Taco Tender Chicken with Taco Spice, Chopped Red Onions, Shredded Cabbage and Cilantro; Vegetable Taco;  Corn Tortillas  Flour Tortillas Served Warm; Fiesta Salad- Field Greens with Black Beans, Jicama, Tomatoes, Sweet Corn, Olives, Topped with Crispy Tortilla Strips; Homemade Fiesta Dressing; Classic Caesar Salad with our Homemade Garlic Croutons; Spanish Rice Seasoned with Fresh Herbs & Spices; Pinto Beans |  Saté Station- (with Uniformed Chef): Chicken Saté; Gingered Salmon Saté; Pork Sate Grilled; Portobello Mushroom Saté; Creamy Mashed Potatoes; Sauces – Peanut Sauce, Ginger Glaze, Hoisin sauce and Chimichurri |  Dessert Station (no wedding cake) : Mini-Dessert Buffet White Chocolate Cups with Chocolate Mousse, Raspberry Cheesecake Bites, Dulce de Leche Bites; Lemon Curd Tartlet with Raspberry
Event Partners:  Venue:  Firestone Winery and Vineyard |  Catering: Catering Connection | Rentals: Ventura Rental | Florist:  Grace Komjakraphan |   Photographer:  Alexandra Wallace | Music:  Gavin Roy Presents |   Wedding Planner/Coordinator:  Events by Rachel Korrey