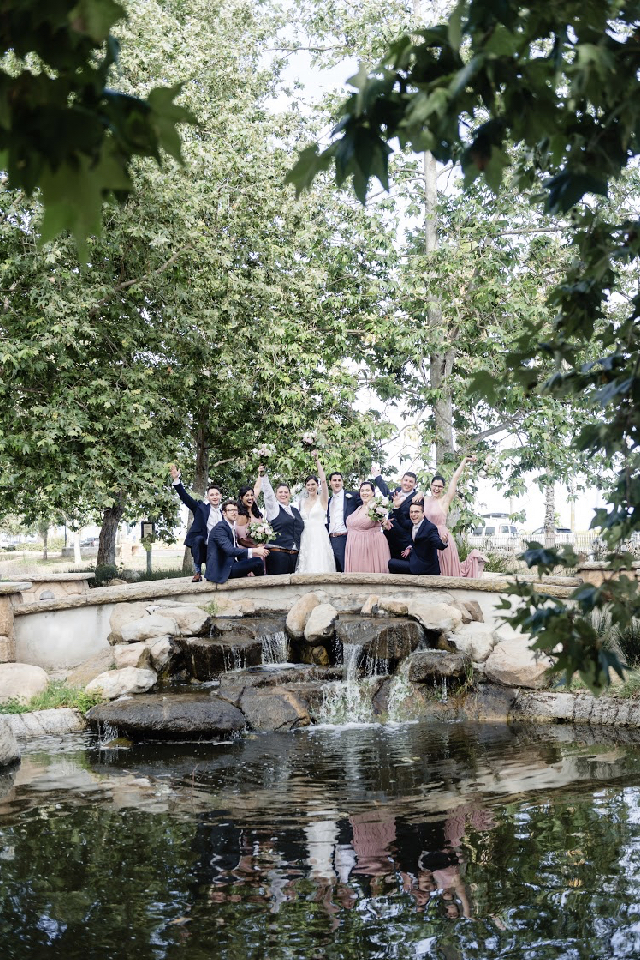 Event Story Vignette:  When you hire a full-service caterer who is intimately familiar with all of the best locations in an area, you are making an investment in "insurance" for your wedding.  Catering Connection's own Philippe Berger was quick on his feet when the weather was predicted to change at Katelyn and Jake's original Santa Barbara outdoor park location.  He swiftly found  the whimsical and romantic Carousel House at Chase Palm Park (right across from the beach) and went to work to re-design and configure the set up to ensure this couple had their dream wedding (and check out the photos – we think he greatly succeeded).  While it did not end up raining as hard or at the time originally predicted, the setting could not have been more perfect, and everyone stayed dry and comfortable.
Personal Touches: Katelyn and Jake are movie buffs and wanted to tie in their love of film to their wedding.  To set the tone, we kicked off their cocktail hour with movie popcorn, which we created in plain as well as Chili Lime, adding a little bit of Santa Barbara flair to the experience.  From the Spanish-heritage-themed main dinner which also gave a nod to Santa Barbara and its history, to the incredible Pavlova Station for dessert, guests did not go hungry!
It was a pleasure making this couple's day a whimsical, romantic and memorable experience and we wish them every happiness in their new life together!
Menu Highlights Tray-Passed Hors d'oeuvres- Popcorn: Chili-Lime & Plain |  Dinner Buffet– Chicken Fajitas: Tender Strips of Seasoned Chicken Breast Sauteed with Red & Green Bell Peppers, Cilantro & Onions;  Vegetable Fajitas: Fresh Strips of Carrots, Zucchini, Yellow Squash, Red & Yellow Onions, Chopped Cilantro and Red & Green Bell Peppers Sautéed to Perfection;  Corn & Flour Tortillas Served Warm;  Spanish Rice Seasoned with Fresh Herbs & Spices; Pinto Beans;  Fiesta Salad: Field Greens with Black Beans, Jicama, Tomatoes, Sweet Corn, Olives, Topped with Crispy Tortilla Strips  and Homemade Fiesta Dressing;  Tortilla Chips, Salsa, Sour Cream & Guacamole  | Dessert & Coffee- Small Gluten Free Wedding Cake Provided by Lilac Patisserie; Pavlova Station- Crisp Meringue Nests with Bowls of Fresh Blueberries, Raspberries, Strawberries, Blackberries, and Assorted Fruit Salad;  Toppings include: Whipped Cream, Chocolate Sauce and Passion Fruit Sauce;  Coffee Station including freshly Brewed Regular and Decaffeinated Coffee and a Selection of Herbal Teas  
Event Partner Team:  Venue:  The Carousel House at Chase Palm Park |  Catering:  Catering Connection | Rentals:  Ventura Rental Party and Events | Florist:  Cody Floral Design | Cake:  Lilac Patisserie | Photographer:  Jennifer Lourie | Lighting and DJ:  AMS Entertainment | Restrooms:  Hollywood Executive Trailers