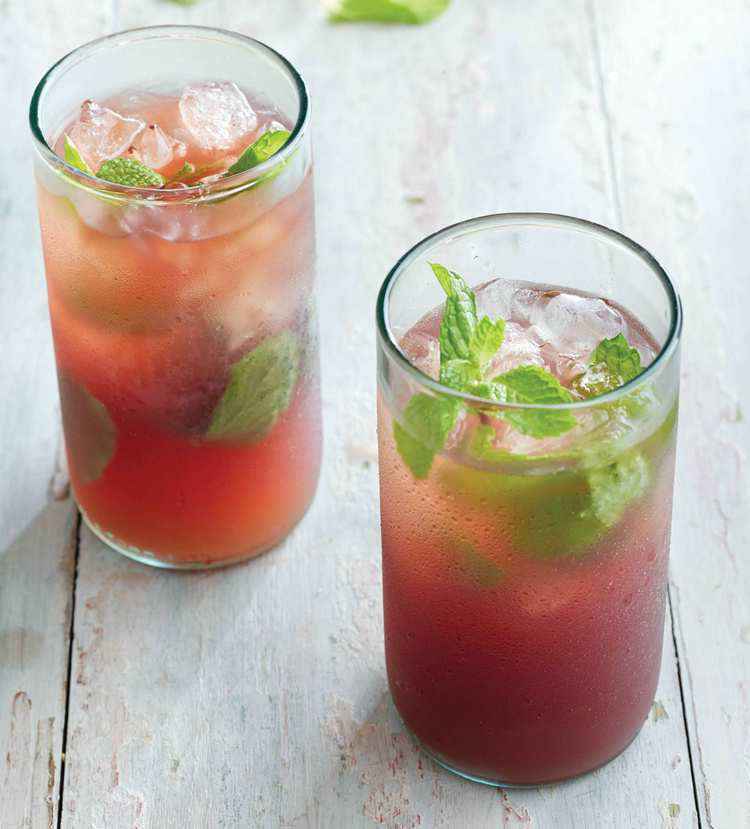 This weekend kicks off the freeing and fun days of summer.  All over, barbecues will be fired up, fresh, sumptuous ingredients will be savored with delicious variations of beverages – both alcoholic and non-alcoholic – and with the longer days and more beautiful weather, health-awareness becomes center of almost all activity.
We absolutely love this Pomegranate Mock Mojito from Rebecca Katz' cookbook The Healthy Mind Cookbook  –  which also has the double effect of also being considered "brain food" –  for any summer event- including a delicious brunch, or simply a healthy lifestyle!
MAKES 2 SERVINGS
PREP TIME: 5 minutes
COOK TIME: Not applicable

1/2 cup freshly squeezed lime juice
1/2 cup pomegranate juice
2 teaspoons honey, optional
24 sprigs spearmint or peppermint
1 cup seltzer water
Ice
Put the lime juice, pomegranate juice, and honey into a large measuring cup and stir to combine. Add the mint leaves and crush with a wooden spoon against the side of the cup. Add the mineral water and stir. Pour into two glasses filled with ice and serve immediately.
VARIATIONS: Use cranberry juice or blueberry juice in place of the pomegranate juice.
Enjoy!