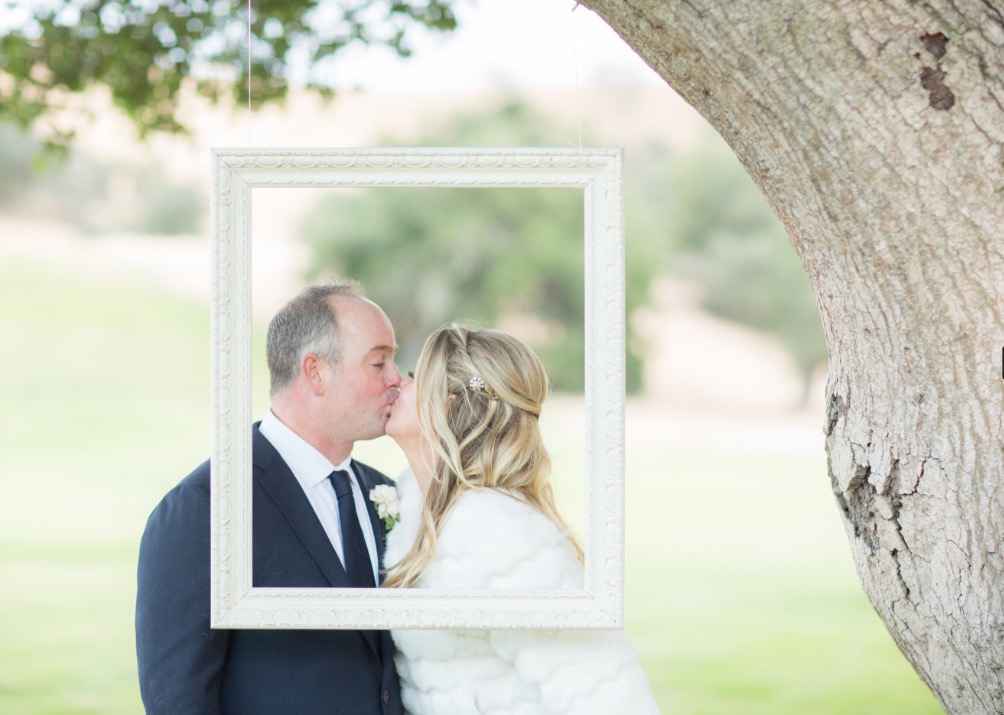 Set in the middle of Santa Barbara's wine country and stunning vineyards of the world-renowned Firestone Crossroads Estate, one may feel they have traveled to Italy to be surrounded by such sumptuousness.  From the embracing vines, rolling lawns and greenery that seem to go on forever, to the oak trees that seem to whisper of eternity in their rootedness and steadfastness, there is no doubt that vows celebrated at this memorable location will be remembered for a long time by all who attended…and unless they were from outside the United States, did not even need a Passport.
Danielle and Joel knew how to make a larger wedding feel like an intimate family affair and we were so thrilled to be a part of this!  From the  family-style meal presentation all prepared with ingredients hand-selected from local purveyors and the freshest fare to some fun touches, including the McConnell Ice Cream Sandwich we passed around during dessert.  This event was the perfect combination of elegance and all heart.
Special Touches: A creative display of the seating chart (see photo below); special lavender seed "baglettes", offering a touch of the romantic Santa Ynez Valley wine country lavender farms and much more.  Check out the images below from Landino Photography for further inspiration.
Menu Highlights:
Hors D'oeuvres:
Antipasti Platter Italian Hand Sliced Salamis and Charcuteries, Artisan Cheeses with Seasonal Fruits, Walnuts, Fig Preserve, Local Honey, Assortments of Local & Imported Olives, Marinated Mushrooms, Cocktail Onions and Large Stuffed Grape Leaves. Accompanied by Freshly Baked Crusty Breads & Lavosh Crackers  |
Tray-Passsed Hors d'oeuvres:
Roasted Sweet Tomato Tart with Basil, Pine Nut Crush and Goat Cheese; White Bean and Rosemary Tapenade on Crisp Crostini ; Grilled Asparagus Spears Wrapped in Prosciutto ;  Macaroni & Cheese Mac&Cheese Ball with Crab | 
Dinner:
  Plated First Course: Caprese Crostini Mixed Green Salad with Vine Ripe Tomatoes, Fresh Mozzarella Bits, Fragrant Basil Leaves and Virgin Olive Oil Vinaigrette, Served over Crisp Flatbread |  Primi (served family-style): Ravioli Meyer Lemon with Ricotta and Arugula Ravioli with a Lemon Butter Sauce; Penne Pasta with Tomato and Green Olive Pici Pasta with Roasted Tomato Marinara Sauce |  Secondi:  Short Rib Tuscan Short Ribs with Carrots and Onions, Tomatoes, Fresh Herbs and Cannellini Bean Braised Cod Fillet with Artichoke Hearts, Roasted Garlic in a Portobello Mushroom Sauce Creamy Polenta with Fresh Parmesan and Chopped Italian Parsley , Seasonal Vegetable Medley;  Roasted Cauliflower and Brocollini and Red Pepper with Olive Oil, Fresh Herbs and Cracked Salt |
Mini Dessert Buffet:
Cannoli, Mini Tiramisu, Italian Wedding Cookies, Tray-Passed McConnell Ice Cream Sandwich