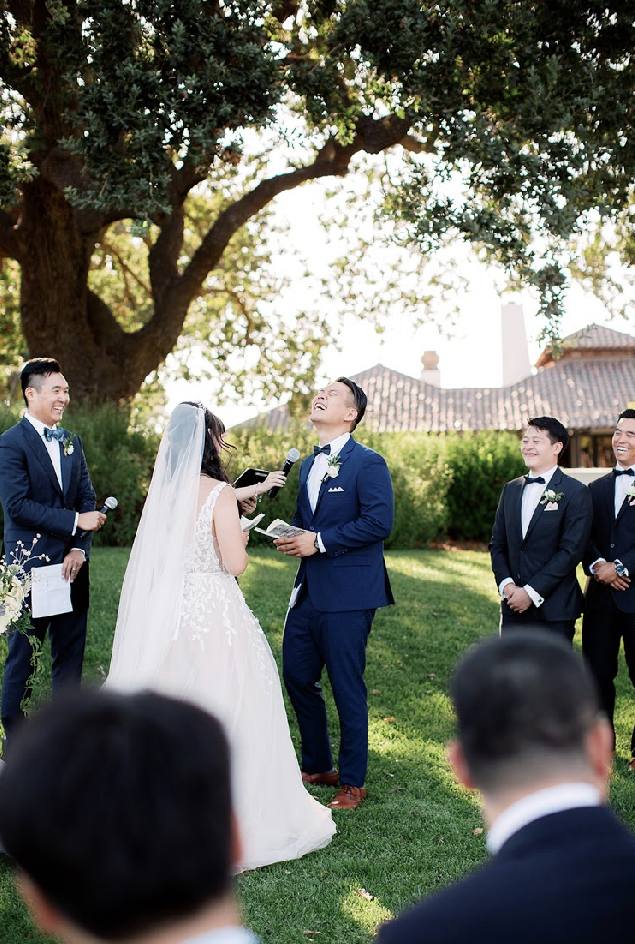 One of the best things we enjoy about what we do is that we have the privilege of serving clientele from all different cultures, religions and backgrounds.   Sometimes we infuse this into their menu story, sometimes they want to stay true to some delicious California cuisine with a nod to our Southern California heritage, which is what Zehan and William chose to do, as you will see by their menu below.
With their ceremony in half Chinese and half English, the joy that was present during their vows is best shown in the photo to the right.  After the ceremony, guests adjourned to the Barrel Room for a grazing board of delectable edibles in the warm, romantic glow only winery barrel rooms can provide.  One of the biggest hits of the night was the Photo Booth, which was always full.
It was a pleasure producing Zehen and William's wedding day and we wish them every happiness in their new life together.
Menu:  Elegantly Displayed Hors D'Oeuvres- Imported & Domestic Cheese Display with Fresh Fruit with a Basket of French Bread and Crackers Tray;  Passed Hors D'Oeuvres-Bourbon Glazed Meatballs; Chicken Saté with Thai Sweet Chili Sauce;  Fresh Local Ahi Tuna Poke on Wonton Crisp with Wasabi Cream; Caramelized Polenta Round with  Tomato Jam & Goat Cheese  |  Dinner Menu- First Course: California Baby Field Greens with Crumbled Goat Cheese, Roasted Santa Barbara Pistachios & Fresh Strawberries Champagne Vinaigrette; Selection of Freshly Baked Artisan Rolls with Butter;  Served Family Style:  BBQ Tri-Tip with Roasted Corn Kernel and Chimichurri Sauce;  Char-Grilled Salmon with Chili-Lime-Cilantro Butter;  Rustic Mashed Potatoes with Caramelized Onion and Fresh Chives;  Green Beans & Cherry Tomatoes;  Vegetarian Option: Stuffed Bell Pepper with Quinoa and Roasted Vegetables, Parmesan Cheese,  Red Pepper Cream Sauce |   Dessert & Coffee:  (Wedding Cake Provided by The Little Things Bakery Wedding Cake):  Lemon Cake with Raspberry Bavarian Cream and White Buttercream Icing;  Coffee Service : Freshly Brewed Regular and Decaffeinated Coffee and a Selection of Herbal Teas  
Event Partner Credits: Venue:  Gainey Winery | Catering: Catering Connection | Rentals: Ventura Rental Party and Events | Florist:  Forage Florals | Photographer:  Anna Delores | Photo Booth:  Another Photo Booth | Video: Reign Wedding Films | Music:  Elite Trading and Service | Cake:  The Little Things Bakery | Hair/Makeup:  Dream Catcher | Parking:  Signature Parking | Wedding Planning:  Smith and Murphy Events