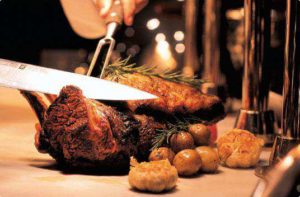 One of the fantastic benefits of being in the catering industry is solving challenges.  I don't believe that there is anything that should create friction and ultimately be a lose-lose for all parties involved. I think , just like any great relationship or marriage, the secret of success is in finding out what both parties want and then making  sure all sides get what they want.  Take the example of our couple who came to me worried about their wedding menu.  She was a die-hard meat lover, having grown up a real cowgirl and on the ranch.  Her fiancé was not just vegetarian, but vegan.  Both sides of their families had tastes similar to themselves, so the guest list was going to be divided as well. 
On one end of the spectrum, you can't invite 300  guests to a menu where no meat or dairy is served at all, when half of those guests will be expecting a more traditional meal.   No matter who is paying for the wedding dinner bill, it is just good etiquette and common courtesy  to make sure that you are providing a meal and experience that tries to take into consideration as many guests attending the wedding as possible.
Our suggested solutions: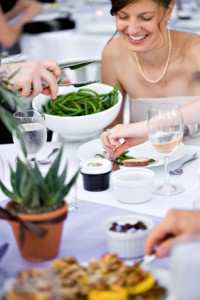 Consider a family-style served menu.  This is where the staff comes up with big platters or bowls of each type of side and main entrée and offers it to the table and/or places the platters/plates in the center of the table for guests to help themselves.  The idea of course is that each entrée and side dish platter and bowl offer the option of vegan or omnivore cuisine.  It is also recommended that in addition to the staff letting the guests know verbally which dish is which, that they be labeled as they are placed on the table for all to see in case there is any question after the server is gone.
Stagger your vegan/omnivore menu for a sit-down, plated meal.  For example, perhaps open with an omnivore type first course, have a vegan main course or alternate courses.
Make sure you interview your prospective caterers carefully. Not all caterers are equipped to come up with a truly great menu that is creative and can blend the unique needs of vegan and meat eaters.  Do your research and don't be afraid to ask lots of questions!
With a little bit of careful consideration and some creativity, there are many solutions possible to make sure each gets what he/she needs!