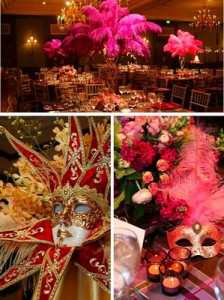 With holiday parties and New Year's Eve flirting with us from around the corner – and even prime fundraiser season coming up in the new year, now is a great time to think of some refreshing party ideas.  Create an experience for your guests- not just a meal with music- and it is sure to be an event talked about for years to come because of its originality.
Nothing is more fun than that of a traditional Masquerade Ball.  It is reminiscent of a bygone era, is elegant and it always lends an aura of mystery and opulence.  Here are some suggestions to get the process started for your masquerade party ideas:
The history of the Masquerade Ball started in 15th century Europe where pageants were processions celebrating marriages or other events of medieval court life.  Everyone came in costume and wore masks.  There was elaborate dancing , games and feasting.  It later became very popular in Venice.
Location:  Location is everything.  There is no better backdrop than that of a private estate for a Masquerade Ball.  In Santa Barbara, we are lucky to have dozens of options for private estates to set the backdrop.  When you utilize what is already there, you don't have to spend money trying to recreate something from scratch.  As a full-service caterer, part of our job is to recommend the best locations for your event .  Let us know – we have some fabulous venues when it comes to private estates.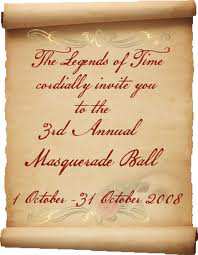 Masquerade Ball Invitations:  Your invitations will set the stage for the feel of your entire event.  Think dramatic, intriguing.  Masks embellished with sequins and feathers with the invitation written on the back.  Or elegant hand scrolled, tea-dyed parchment paper sealed with wax.
Décor:  Colors: deep reds, purples, greens and golds.  Lots of drapery swagged, lush fabric throws over furniture.  For place settings, consider super fancy china, gold silverware, cloth napkins, ornate napkin holders/rings.  Centerpieces can be ornate candelabra, masks and feathers, etc.  Think opulence.  And to showcase the colors, hiring a lighting designer to add the right wash and textures to highlight the centerpieces and architecture is a must.  What you lack in decor, a good professional event lighting designer can help make up for in the element of lighting design.
Entertainment: No masquerade ball would be complete without the perfect blend of entertainment.  From live musicians strolling upon guest arrival to a full on band, fortune tellers, photo booth, strolling magicians, a costume contest, a guest-interactive murder mystery and if you are throwing in a Mardi Gras element to this celebration you could have a Tattoo Parlor with a Henna tattoo artist.
Masquerade Party Food Ideas: continue the fanfare of an opulent celebration with an opulent feast.  Below is one of our favorite Venetian- Masquerade Ball themed menus:
Masquerade Ball Menu:
L'antipasto
Spinach and Artichoke Pinwheels
A savory blend of Parmesan cheese and spinach baked in a crisp puff pastry
Prosciutto Purses
Fresh cantaloupe wrapped in prosciutto and tied with chives
Bruschetta
Toasted baguette topped with freshly chopped tomatoes and basil
Antipasto Display
Sliced Genoa Salami, Prosciutto Panino, and Soppressata accompanied by Manchego, Asiago, and Gouda cheeses,
with olives, fresh sliced baguettes, and bread sticks
Cranberry Kiss Mocktail, Sparkling Cider, and Water served at reception
Dinner
Il Primo
Eggplant, tomato, and mozzarella stack
Served with basil and balsamic vinaigrette
Zuppa
Ribollita- A Tuscan vegetable and bread soup
garnished with olive oil, scallions, and Parmesan cheese
Palette Cleanser
Lemon Sorbetto served with a mint leaf
Il Segundo
Garlic and Rosemary Crusted Cornish Game Hen
served atop a Wild Rice Dressing and Rosemary Roasted Root Vegetables
or
La Verdura
Polenta Stuffed Peppers with Pesto and Goat Cheese
Topped with tomato sauce and served on a bed of Wild Rice Dressing
Il Dolce
Warm Pear, Apple, and Cranberry Crisp
Iced Tea and Water served with dinner
Cafe Americano served with dessert