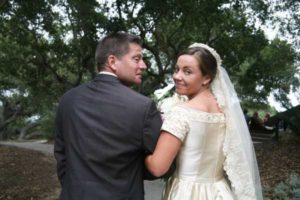 Just as every couple is unique, so is every wedding location. One of the things we love most about working the same locations in Santa Barbara is that every wedding done is differently at that location.   This bride and groom really had some fun with mixing up things a bit.  It is almost "passe" to have everything match now and so this couple alternated seating styles and tables, mismatched centerpieces and yet tied it all together for a great casually relaxed , fun feel.
The Menu:  Welcome Beverages: Iced Tea, Lemonade, Water Station with Sliced Cucumbers and Ice;  Hors D'oeuvres: Chicken Empanadas with Chipotle Dipping Sauce, Imported & Domestic Cheese Display with Fresh Fruit, French Bread and Crackers,  Hickory Bacon-Wrapped Dates with Almonds (Crispy Bacon Wrapped Around Almond Stuffed Sweet Dates);  Dinner Buffet:  Grilled Tri Tip (Marinated and Grilled with Corn Jalapeno Relish and Mexican Salsa), Mexican Salsa, Pata with Pesto Sundried Tomatoes and Artichokes, Tri Color Fusili Pasta with Garlic Cream Sauce, Chicken Breast Grilled and Sliced, Asparagus with Confetti of Red Peppers, Classic Caesar Salad with Homemade Garlic Croutons; Selection of Freshly Baked Artisan Rolls with Butter;  Coffee and Wedding Cake (Chocolate, White Chocolate Filling, Buttercream Icing adorned with Fresh Flowers)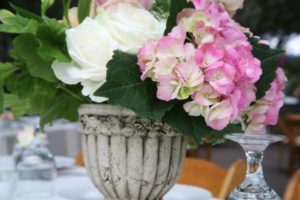 Event Supply Partners: Elings Park (Location); Rentals:  Discount Party Rentals Florist: A Smiling Garden; DJ: Music by Bonnie; Photographer:  Linda Blue; Lighting:  Bella Vista.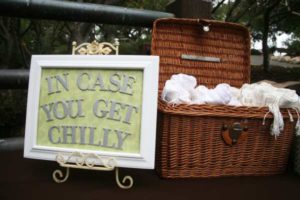 Special Touches:  Pashminas for guests after sunset; on each placesetting: a glass bird for guests to take home as their favor, guests' table assignments written on a vintage window pane and much more.