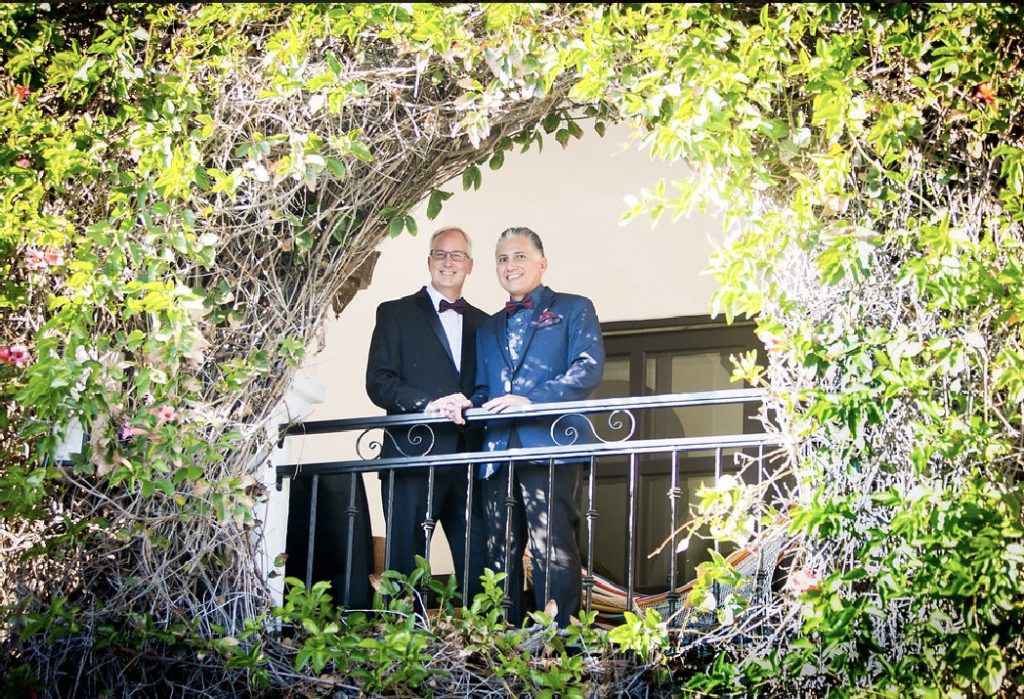 Not all the weddings we do are hundreds of guests in grand venues.  In fact, some of the most "epic" weddings we've done have been more intimate and the focus was on celebrating with closest family and friends.
Vince and John chose to do such a celebration and focus on the closeness of their love for their family and friends, as well as each other.  Their wedding menu (below) was a great success (check out the Chicken Breast with Pecan Apricot Stuffing, which was a particular hit) and their wedding cake from Chooket.  They feasted on deliciousness and amazing company while the melodies of guitarist Tony Ybarra filled the air celebrating their nuptials.
Congratulations, Vince and John!
Event Menu Highlights :   Hors D'Oeuvres:  Elegantly Displayed Antipasti Platter- Italian Hand Sliced Salamis, Fresh Mozzarella, Cubed Feta Cheese, Assortments of Local & Imported Olives, Marinated Mushrooms, Cocktail Onions and Large Stuffed Grape Leaves;  Accompanied by Freshly Baked Artisan Breads; Passed Hors d'oeuvres:  Hickory Bacon Wrapped Dates with Almonds;   Rock Shrimp Ceviche Tostada with Fresh Limes, Cilantro, Avocado and Pico De Gallo |  Wedding Dinner Buffet- Grilled Marinated Flank Steak Roasted Corn Kernel and Chimichurri Sauce ; Chicken Breast with Pecan Apricot Stuffing; Vegetarian Paella with Fresh Baby Vegetables- Roasted Fall Vegetables, Edamame and Caramelized Tofu;  Gratin Potatoes with Cheddar Cheese, Garlic & Cream; Fall Vegetables with Fresh Herbs and Roasted Garlic;  Arugula Salad with Shaved Parmesan, Roasted Santa Barbara Pistachios and Fresh Blackberries, Champagne Vinaigrette;  Selection of Freshly Baked Artisan Rolls with Butter |  Dessert & Coffee:  Wedding Cake Wedding Cake Orange Cake – Bavarian Cream Filling with Crushed Almonds – White Buttercream Icing Mini Dessert Buffet- Brownie Bites, Mexican Wedding Cookies, Lemon Curd Tartlet with Raspberry and Chocolate Mousse Cup 
Event Partners:  Venue:  Private Estate | Catering:  Catering Connection |  Rentals:  Discount Party Rentals | Florals:  Ella and Louie Floral Studio |  Photographer:  Sarita Relis | Guitarist:  Tony Ybarra | Cake:  Chooket