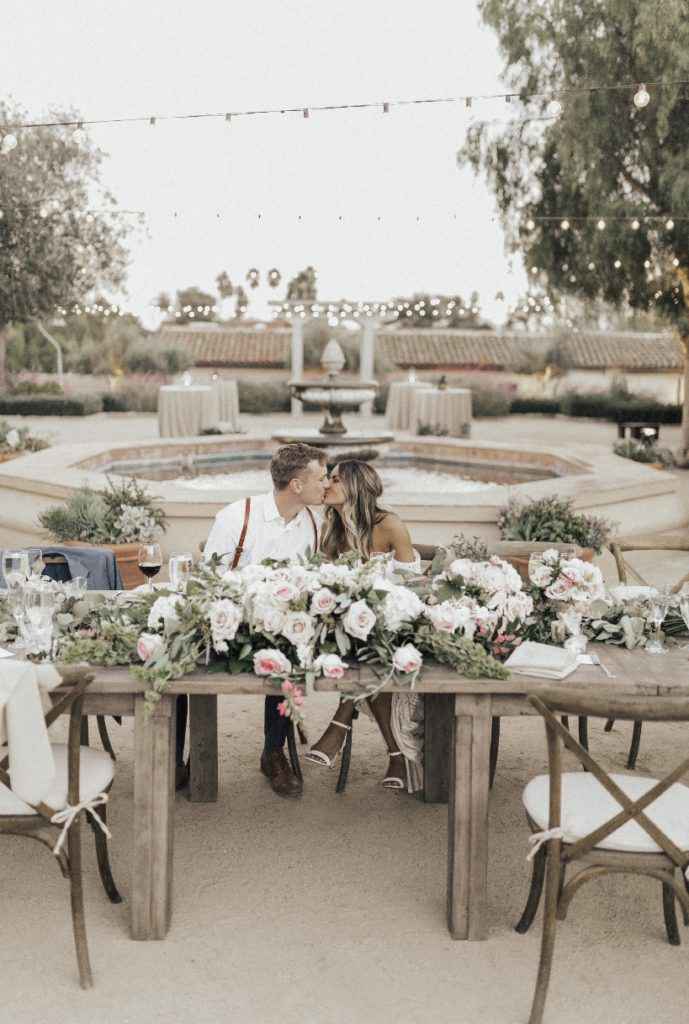 The Santa Barbara Historical Museum offers a warm and wonderful taste of historic Santa Barbara with its Spanish influence, and as the sun sets,  lights showcase the architecture, and stars overhead come out to play, guests are in for a beautiful Santa Barbara wedding experience.  Conveniently located downtown Santa Barbara, many of our couples find that their guests can stay at one of the lovely local hotels and walk to and from the wedding celebration at the Santa Barbara Historical Museum.
And one of our signature service items for our wedding couples always includes saved appetizers and drinks for the bride and groom during their post-ceremony photos.  We don't want them to miss one bit of deliciousness during their cocktail hour!   We will either bring them their hors d'oeuvres, or ensure we save some and place them at their dinner setting (see photo below).  Our goal is for everyone to enjoy the fruits of their hard planning and menu choices for their special day.
Congratulations, Lorrana and Jacob!
Menu Highlights: Hors D'Oeuvres: Tray Passed Hors D'Oeuvres- Steak Bite with Blue Cheese & Cilantro Pesto Dips;  Crunchy Belgian Endive with Gorgonzola, Candied Walnuts and Cranberries; Hickory Bacon Wrapped Dates with Almonds |  Dinner : Char-Grilled Salmon Chili-Lime-Cilantro Butter; Chicken Picatta- Lightly Breaded and Sauteed Chicken Breast topped with our homemade Lemon & Caper Sauce and Freshly Sliced Lemons; Roasted Red Potatoes with Fresh Herbs and Garlic; Seasonal Vegetable Medley; Shepard Salad with Vegetable Toppings; Ranch Dressing & Homemade Balsamic Dressing; Selection of Baguettes 
Event Partners:  Venue:  Santa Barbara Historical Museum |  Catering: Catering Connection |  Rentals: Ventura Rental Party & Events |  Florist:  Alpha Floral |  Photographer: Kaylee Chelsea | Lighting:  Bella Vista Designs | Wedding Cake and Music provided by a friend.