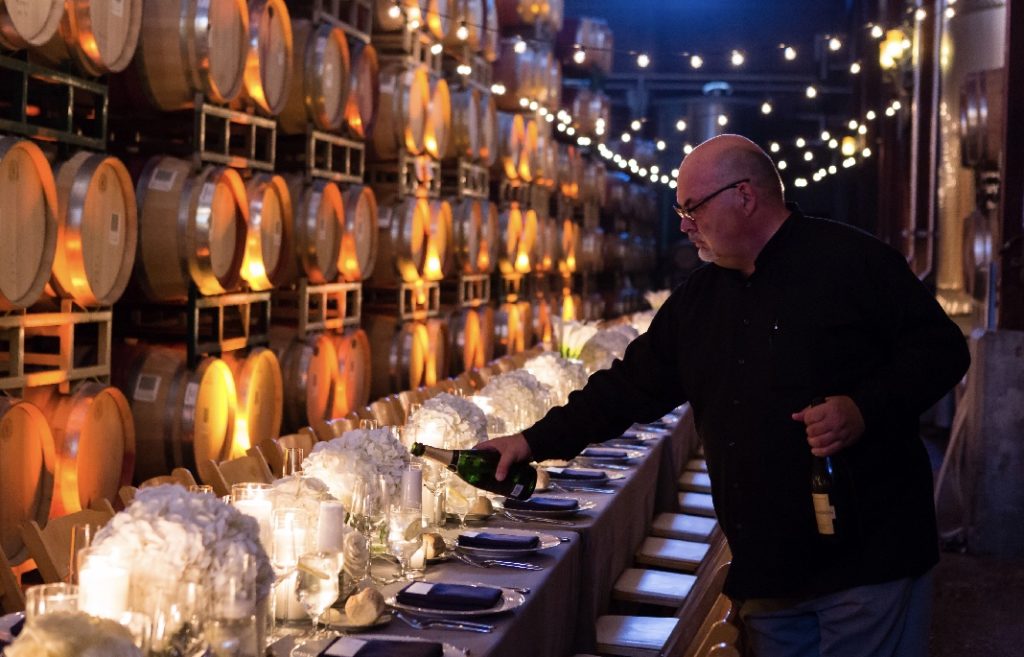 People come from all over the world to Santa Barbara's wine country, the Santa Ynez Valley to try incredible wines and take in the views and varietals our region has to offer.  Firestone Winery, one of the area's premiere wineries and vineyard wedding locations offers wedding couples and their guests a full winery wedding experience.  In addition to getting married overlooking the sprawling vines, guests can enjoy a sumptuous wedding feast in the iconic Firestone Barrel Room, followed by dancing under the stars outdoors in a courtyard reminiscent of something you would see at a private estate in Tuscany or Provence.
Chris and Michael chose to take advantage of every single gorgeous space at Firestone Winery, and coupled with a magnificent dinner menu fit for royalty (check out the whole menu below – but in particular the dessert!) , this wedding was lavishly appointed from start to finish.
We were delighted to be a part of this wedding celebration and wish Chris and Michael congratulations on their new married journey together!
Menu Highlights: Tray Passed Hors D'Oeuvres: Angus Beef Sliders with Gorgonzola Cheese and Grilled Onions; Ahi Tuna Tartar on Wonton Crisps with Wasabi Cream with Fresh Seaweed Salad; Mac & Cheese Balls with Sharp Cheddar and Smoked Paprika ; Crushed Fava Beans and Burrata Crostini;  Dinner Menu:  Selection of Freshly Baked Artisan Rolls with Butter ; Arugula Salad Grilled Stone Fruit, Heirloom Tomatoes, Crisp Pancetta and Baby Arugula Salad with Fragrant Goat Cheese Champagne Vinaigrette |  Main Entree: Herb Seasoned New York Sirloin of Beef with Tarragon & Cracked Black Pepper Bearnaise Duchesse Potatoes Grilled Asparagus with Confetti of Bell Peppers or Fresh Local Seabass with Fire-Roasted-Tomatoes Hollandaise Sauce,  Served over Black Rice and Roasted Summer Tri Color Carrots  or (Vegan selection) Vegetarian Paella with Fresh Baby Vegetables  with Caramelized Tofu and Edamame | Dessert & Coffee : Mini Dessert & Ice Cream Sunday Bar : Chocolate Profiteroles ; Sherry Trifle with Fresh White Peaches; Mini Cheesecake Bites- Raspberry Cheesecake; Ice Cream Sundae Bar with 2 Types of Santa Barbara McConnell Ice-Cream (Boysenberry and the Sea Salt cream and cookies) along with a Variety of Toppings, Sauces and Fresh Fruits; Milk Bar+  Crack Pie and Cake Truffles  | Late Night Snack: Live Flatbread Station: French Fries Served in Bamboo Cones; Flatbreads Whole Wheat Crust with Candied Tomatoes and Onions, Crisp Pancetta and "Chêvre" Cheese; Herb Crust with Roasted Tomatoes Sauce, Kalamata Olives, Fresh Arugula and Bufala Mozzarella (vegetarian); Parmesan Crust with Sautéed Mushrooms, Caramelized Red Onions, Fresh Rosemary and Grilled Sausage
Event Partners: Venue:   Firestone Winery | Catering:  Catering Connection |  Rentals:  Ventura Rental Party & Events | Linens: La Tavola | Florist:  Anna LePley Taylor | DJ:  AMS Entertainment | Photographer:  Jordan Jennings |  Officiant:  Cliff Wiggins |  Wedding Planner/Coordinator:  Pam Olson
​