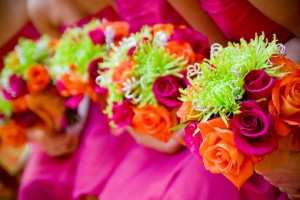 Let's be honest.  There's a reason rainbows always make us "gasp" a bit with delight when we see one.  Besides being symbolic of "promise", the colors are stunning.  It is as if the Great Creator is telling us that colors are an absolute requirement for making life one big inspiration.  
This is fantastic news for the wedding and special events industry, where design options are endless and can offer brides and grooms countless customized options.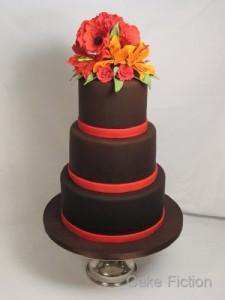 We also know that colors have a psychological effect on people: for example, pink is supposed to have a "calming"  yet "uplifting" effect, yellow an "energizing" effect, etc.  So it may come as no surprise that "honeysuckle" (pink/salmon) was rated as the most popular color for 2011.  This year has been a challenging year emotionally for many and honeysuckle is a "happy" color which also pairs well with other complementary colors such as green and brown.
What are other popular trends and tips in finding your ideal color theme?
Watch fashion trends – the events industry tends to shadow the fashion industry in colors and trends. Turquoise, purples, yellows and greens and various shades of blue as well as bright orange have been very popular this year.
Never over-do it on the color.  Pick one main color and then add a "splash' of the accent color here and there so one color doesn't get overdone and monotonous. 
Don't feel you have to match the exact shade of your chosen main color.  Find a different hue of it to add dimension.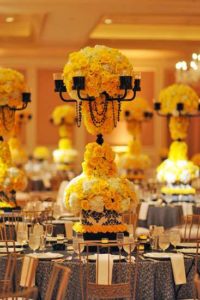 Make sure whatever your choice, you carry your color(s) from beginning to end.  Your invitations will set the tone of the entire event – make sure the detail is carried through in the actual event from guest arrival (sign-in area) to pre-ceremony beverages, programs, ceremony, cocktail hour to reception, menu cards, favors, linen choices (don't forget specialty lighting) etc.    And finally, don't overlook your wedding venue as the primary "stage" for setting your color choices.  For example, if your wedding is at a resort at the ocean, choosing turquoise and blues and browns which already complement the natural backdrop is perfect choice.  Why create something that is not there and "force" a color scheme.  Let your wedding location be part of your inspiration, too , and work within that frame to help ensure your wedding is one of a kind.