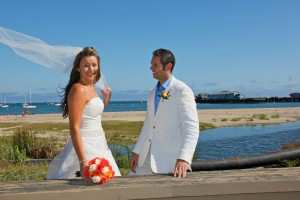 Chase Palm Park is one of those Santa Barbara wedding locations that combines the best of Santa Barbara – right across from the ocean, its views are fantastic and the venue space is versatile and allows for some flexibility.  But one of the elements we loved most about Kerstin and Steve's special day wasthe cuban-infused menu and festive atmosphere for their celebration.  With AMS Entertainment providing the music and energetic flow, this was a real party!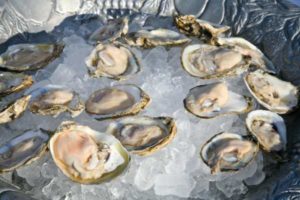 Wedding Menu:  Hors D'oeuvres: Chicharchirritas (Plantain Chips); Fresh Oysters on the Half Shell, Sausage-Stuffed Mushrooms, Imported & Domestic Cheese Display with Fresh Fruit, French Bread & Crackers;  Cuban-Santa Barbara Dinner Buffet:  Grilled Marinated Salmon Filet with Olive Tapenade, Peppercorn-Crusted Beef Tenderloin with Cabernet Sauvignon Reduction, Arroz Con Pollo, Green Beans & Cherry Tomatoes, Cuban Avocado & Red Onion Salad, Chayote Salad, Selection of Freshly Baked Artisan Rolls and Butter, Wedding Cake by Christine Dahl Cakes, Freshly Brewed Coffee.
Event Supply Partners:  Catering by Catering Connection, Wedding Location:  Chase Palm Park,  Discount Party Rentals, AMS Entertainment, Photography (and all images on this BLOG) by Scott Gibson, Wedding Cake by Christine Dahl.