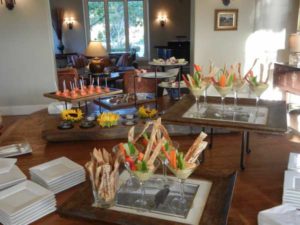 Today's rehearsal dinner is experiencing a refreshing makeover.  And it's time.  The evolution of weddings and the way guests are coming together almost mandates that other wedding related events such as the Rehearsal Dinner evolve right along with it.  So what's going on?  For one, traditionally wedding rehearsal dinners were for the bridal party and immediate family (mothers and fathers of the bride and groom) only because most of the bridal party had to travel and come from out of town.  With 90% of weddings being destination in nature, almost all guests are having to travel from out of town.  Engaged couples are feeling it more necessary to provide an event where everyone can come together to get to know one another and relax before the big day.  What has resulted from this evolution:  an increasing  disappearance of a formal "sit down" rehearsal dinner and an event that encourages mixing and mingling and interaction of and with guests.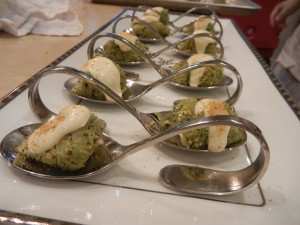 How does this translate to the food presentation and rentals?  For food presentation, there are food stations, lots of tray passed hors d'oeuvres;  for rentals, just high top cocktail tables and only a few tables with chairs are necessary, encouraging guests to stay active and interact.  With today's events raising the bar in food presentation, some brides are choosing to make food part of the entertainment.  For example, involving guests with the food station like having a "cut your own pasta" station where hanging sheets of pasta are presented and guests can choose their own pasta and then toppings and sauces.  Dramatic guest-interactive food presentations aren't your thing?  Passed hors d'oeuvres don't have to be boring.  Consider these fantastic passed culinary delights that make a great visual experience for guests, too:  lamb cutlets in mashed potatoes, pasta in a martini glass , shot glasses with soup and much more. Some of our favorites and most popular options include Smoked Salmon Lollipops, Orange Sorbet Cones, Vegetable and Hummus Cocktail, Basil -Encrusted Scallops with Citrus Aioli, Smoked Duck with Cherry Relish and Gnocchi.  Of course, blending in a combination of stationary appetizers is a nice way to balance out the event , too.
No matter what your choice: traditional rehearsal dinner or something a bit more progressive to engage all your guests, the rehearsal dinner is what sets the tone for the feel of your wedding day and is a great way to embrace everyone who is coming to celebrate the start of your new life together.