Because Santa Barbara is set in one of the most picturesque areas in the world, it is only natural that most brides choose one of the hundreds of outdoor locations available to them.  One of our favorite locations is Elings Park.  While we do dozens of weddings at Elings Park, no two are the same because no two bridal couples are the same.    Amy and Jerry's day was no exception and we loved working with them.
Wedding Menu:  Hors d'oeuvres:  Imported & Domestic Cheese Display with Fresh Fruit, French Bread and Crackers, Crostini with Pesto, Mozzarella &  Confetti of Bell Peppers, Grilled Asparagus Spears Wrapped in Prosciutto;   Dinner Buffet:  Beef Tenderloin Marinated in Roasted Garlic & Balsamic Vinegar with Cabernet Sauce,  Grilled Halibut with Tomato & Bell Pepper Confit, Wild Mushroom Risotto, Green Beans with Tear Drop Tomatoes, Shepard Salad with Blue Cheese, Roasted Walnuts & Cranberries with Homemade Balsamic Dressing, Selection of Freshly Baked Artisan Rolls with Butter.  Dessert: Fresh cupcakes and coffee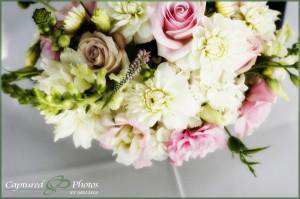 Special Mention from Amy & Jerry: "Thanks so much for making the day run so seamlessly.  Everything was perfect and we all thought the food was fabulous…(We) would lik eto commend you and your staff on a superior job done.  (We) appreciate the class and excellent service you provided."
Event Vendor Partners: Wedding ceremony & reception location: Elings Park;  Catering by Catering Connection; Rentals by Discount Party Rentals;  Florals by Grass Roots; Entertainment by AMS Entertainment; Photography by "Capture", Melissa George, whose lovely images also grace this BLOG.