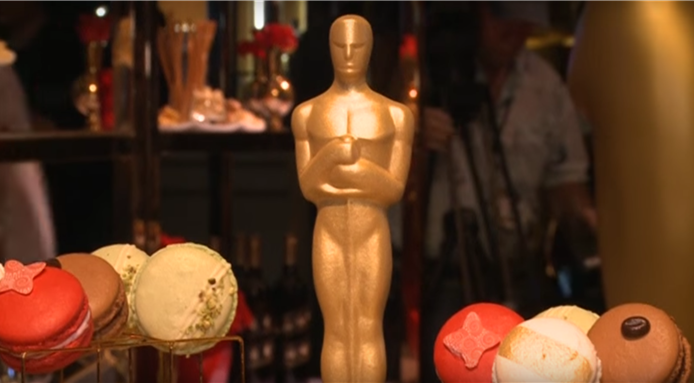 While we love all the glitz and glam of Hollywood and the red carpet, we would not be true to our profession- the culinary arts – if we did not ask the question, "But what will they be eating?"  Dresses are fabulous, but let's be honest:  food reigns.
According to Fine Dining Lovers, the following menu will be enjoyed by all attending the Governor's Ball and catered by none else than Wolfgang Puck himself, with Kamel Guechida, Monica Ng and Jason Lemmonier taking care of the pastry items.  
~~~
OSCARS FOOD MENU 
Savoury Snacks 
Classics
Oscar Shaped Cracker with Smoked Salmon.
Black Truffle Chicken Pot Pie.
Baked Macaroni and Cheese.
 New Dishes 
Moroccan Spiced Wagyu Short Rib with Parmesan Funnel Cake.
Taro Root Tacos with Shrimp, Mango, Avocado and Chipotle Aioli.
Gnocchetti with Mushrooms and Cashew Cream
Lobster Corn Dogs
Gold-Dusted Truffle Popcorn and Homemade Pretzels
Carrot Juice-infused Pasta.
Salads
Bitter Greens.
Baby Beet Salad with Goat Cheese Yogurt.
Granola and Citrus.
Desserts
Gelato and Sorbet
Movie Theatre Flavor Chocolate Bonbons: Goobers, Sour Patch Kids.
Oreo Cookie S'more
Vanilla and Red Velvet Waffles
Lava Cakes
Takoyaki Cake Balls
Caramel Cappuccino Oscar Lollipops.