Ancient traditions that are based in joy, love and celebration never go out of style.  A Persian wedding is one of the most decadent, rich-in-history, steeped-in-tradition celebrations on earth.  When a culture has been around for thousands of years, there's no doubt they've perfected many things, one of which is the savoir-faire of how to celebrate a marriage in big style.
We absolutely loved being the full service catering event partner for Dania and Jonathan's Persian wedding.  Each elegant touch and multi-cultural detail had a meaning steeped in thousands of years of tradition and beauty.  While many Persian timeless traditions are historic, they translate beautifully to modern wedding culture.  The Sofreh, or "wedding" is broken down to two stages:   1)  the "Aqd", the legal process of getting married where parents and the couple often sign the contract together.  The ceremony has an elaborately decorated cloth called the "Aqd", and the couple sits on a bench or love seat, as it is required they be close to one another.  The ceremony start time is determined by the arrival of guests, so many Persian weddings are known for not starting at the printed invitation time, and this timing is considered completely normal and expected.  The second part of the Sofreh is 2) the "Jashn-e Aroosi", or the wedding celebrations and festivities.  While traditional Persian wedding celebrations last 2-7 days, Dania and Jonathan chose to keep their celebration at Rockwood Woman's Center to one day of merry-making and feasting, while infusing it with some of the best of Persian wedding tradition.  A few rain sprinkles on their wedding day only served to baptize this happy couple with a shower of blessings (and make for some charming photos).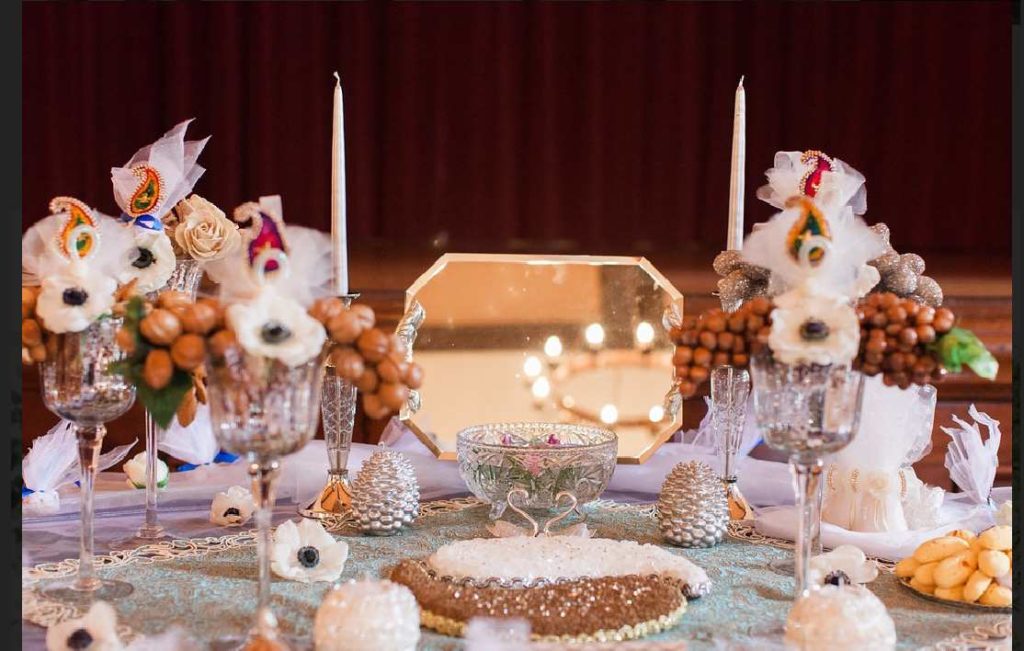 Perhaps the most iconic part of the Sofreh is that of the ayné va shamdoon , or mirror and candlesticks.  Two candles (symbolizing the brightness of the couple's future)  are placed on either side of the mirror (which symbolizes eternity).  While Dania and Jonathan had more of a traditional western wedding ceremony outdoors, they definitely honored the Persian Sofreh tradition indoors with their modern "sweetheart table".   The mirror and candlesticks were placed in front of them with the mirror facing away from the guests, towards the couple.  As the bride and groom take their seats at the reception before the guests, a canopy is held above their heads (traditionally by several unmarried women, traditionally family members, but in modern weddings, by the bride's wedding party). A tray of 7 multi-colored spices and herbs (Sini-ye Aatel-O Ba atel) is also placed on the table that is believed to ward off evil spirits.
Dania and Jonathan had the best of all worlds:  they blended modern western wedding traditions with honoring ancient Persian traditions seamlessly.  Every single special touch at this wedding had a deep meaning and was a masterpiece (see photo collage below).
Menu Highlights:  Tray-Passed Hors d'oeuvres:  Chicken Skewer with Chimichurri Dipping Sauce;  Roasted Sweet Tomato Tart with Basil, Pine Nut Crush and Goat Cheese (the goat cheese was a nod to Persian traditional wedding menu offerings passed to guests post-ceremony); Ahi Tuna Tartar on Wonton Crisps with Wasabi Cream | Dinner:  First Course:  Crisp Asian Pear & Peppery Arugula Salad;  Main Course:  Grilled Tri Tip with Chimichurri Sauce;  Char-Grilled Salmon with a  Chili-Lime Cilantro Butter;  Roasted Potatoes with Fresh Herbs and Garlic;  Seasonal Vegetable Medley;  Selection of Freshly-Baked Artisan Rolls with Butter |  Dessert:  Provided by Client
Event Supply Partner Cast:  Venue:  Rockwood Woman's Club |  Catering:  Catering Connection  |  Rentals:  Ventura Rental Party Center  |  Florals:  Ella and Louie | Quartet:  Lalia Mangione |  Guitarist:  Mackenzie Mendez | Ceremony Sound, DJ and Lighting:  Gavin Roy Presents |  Coordinator/Planner:  Leanne Elliott, Soleil Events  | Officiant: Larry  Burtoft | Photography:  Skyla Walton | Hair & Makeup:  Mishay Salon