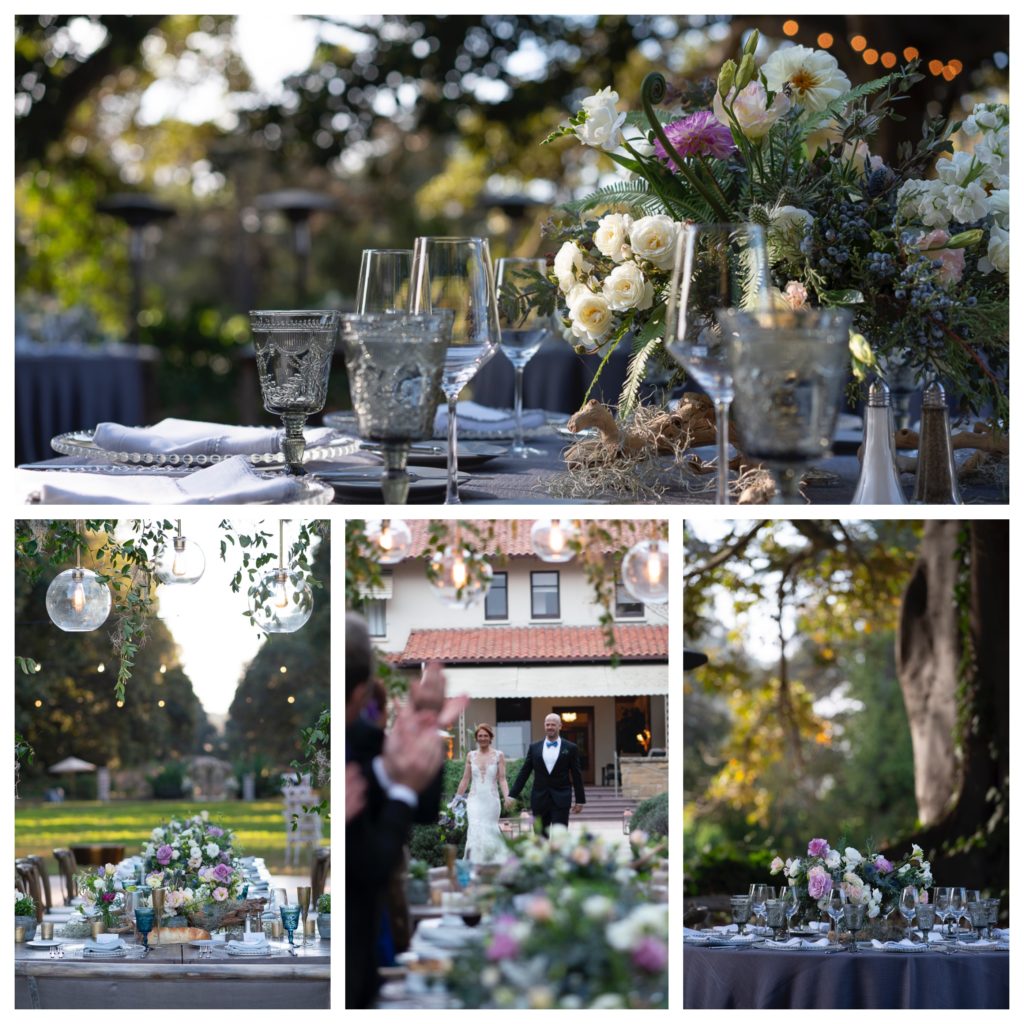 Kate and Geoff chose one of Dos Pueblos' Ranch's premiere venues- the historic Casa Grande, which was the home of the original owner. This gorgeous home and its grounds played host to countless soirees from the 1920's through the present day and when you are on site, you will see that it's stately elegance is rounded out with the natural wood setting of centuries old trees and gardens.  You can almost feel the presence of celebrations in bygone eras and instantly you know this is a location for memorable events.
We were thrilled to be a part of an incredible team who put together this amazing wedding and all its special touches.  Casa Grande offers a variety of event layouts, and we used every single space we could to give guests an authentic taste of the property's beauty.
Our specialty is the element of telling a story with our cuisine and the food and beverage experience.  Example: Kate and Geoff loved dirty martinis, so besides having them available at the bar, we incorporated them into passed appetizers (see below);  for escort "cards" they had customized shot glasses that held guests' name and table number with sign inviting guests to "take a shot, take a seat".   We also loved that they chose our delicious Amuse-Bouche when guests sat down for dinner to enjoy during conversation and wine until dinner service began shortly thereafter. Their sumptuous dinner menu was topped off with our Deluxe Coffee Station and a sweets table (in addition to the wedding cake).  It was a decadent night for all, where the dance floor was never empty!
Working with Kate, Geoff and their families in producing this wedding -and their rehearsal dinner the night before- was such a pleasure.  We wish them heartfelt congratulations and best wishes!
Menu Highlights: Hors D'Oeuvres: Tray Passed: Braised Pork Belly with Cherry Compote; Steak Bite with Blue Cheese & Cilantro Pesto Dips Soup Shots; Fall Butternut Squash Soup with Creme Fraiche & Rosemary Oil Drops; Grilled Jumbo Shrimp and Olive Skewer with Dirty Mini Martini Shooter; Fresh Figs with Goat Cheese on Belgian Endive with Honey Pecans and Port Wine Reduction | California Fall Dinner Menu : Dining Tables Adorned with Crusty French Bread and a Fall Rustic Tart: Amuse Bouche Tart Seasonal Apples, French Brie and Candied Walnut Rustic Tart | First Course:  Beet Salad Roasted Golden and Red Beet Salad, Baby Field Greens Tangy Goat Cheese and Santa Barbara Pistachios, Ojai Orange Vinaigrette Crusty French Bread |  Entrée Choices: Mouth-Watering Beef Short Ribs Braised in California Cabernet Wine, served over Rustic Mashed Potatoes with Roasted Fall Vegetable Bouquet or Pan-Seared Local Seabass with Slow-Braised Fennel & Onion Compote Served with Kale & Butternut Squash Gratin or Vegetarian Selection Meyer Lemon and Arugula Ravioli with Asparagus Tips and Lemon Butter Sauce | Vegan Entrée; Quinoa and Roasted Vegetables Stuffed Bell Pepper with Roasted Red Pepper Sauce | Dessert: Wedding Cake Provided by Chooket: Pink Guava Cake with Passion Fruit Bavarian Cream Filling, White Buttercream Icing | Deluxe Coffee Station:  Freshly Brewed Regular and Decaffeinated Coffee, Selection of Herbal Teas and Hot Cider Served with Whipped Cream and Mini Marshmallow, Cocoa & Cinnamon Powder Whiskey/Rum for Hot | Sweet Treats (with coffee station); S'More's Tart; Mini Chocolate Tart with Roasted Marshmallow; French Macarons; Assorted Flavors: Mocha, Chocolate, Pistachio, Raspberry, Vanilla, Lemon
Event Partners:  Venue:  Dos Pueblos Ranch: Casa Grande | Catering: Catering Connection |  Rentals:  Ventura Rental Party and Events | Flowers:  Vignette | Lighting:  SPARK Creative Events | Ceremony & Cocktail Hour Music:  Tony Ybarra |  Cocktail Hour and Dinner/Dancing Music: Bouquet Sound | Bartending Services:  Liquid Cult |  Photography:  Deborah Kalas |  Cake: Chooket |  After-Party Transportation:  Santa Barbara Trolley;   A&J Limousine  |  Parking Direction and Valet:  Blue Star Parking & Valet |  Hair/Makeup:  TEAM Hair and Makeup | Deluxe Hollywood Style Restroom Trailer with Attendant:  Marborg |  Wedding Planning, Design and Coordination :  Kerry Lee Doehr, Santa Barbara Wine Country Weddings & Events |