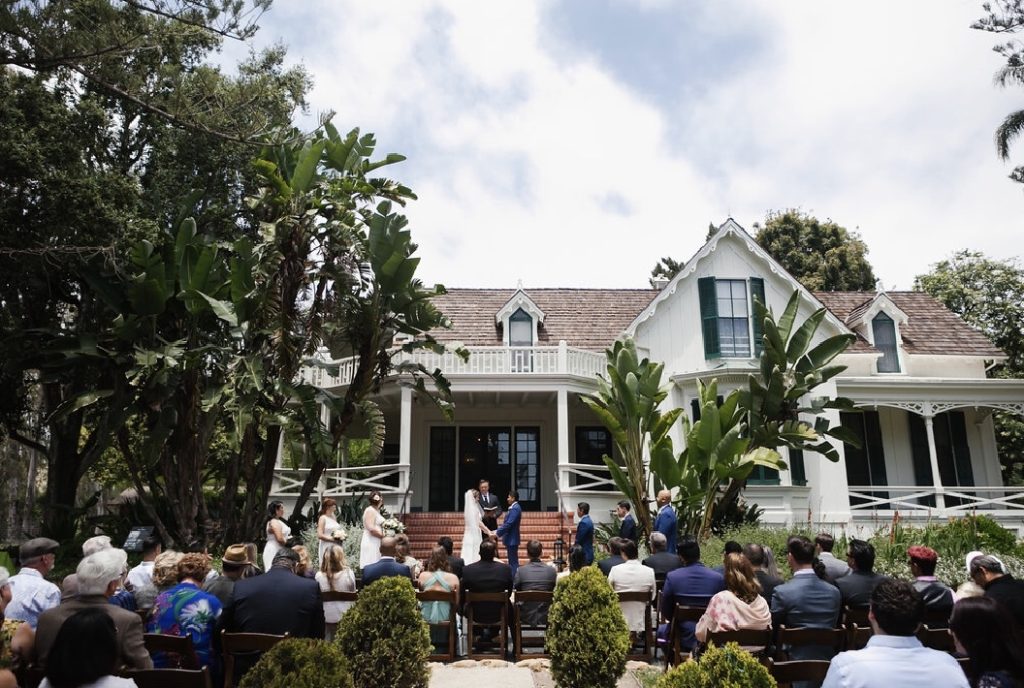 The historic Stow House sits on Rancho La Patera, a quintessential example of early California ranches right here in Santa Barbara County.  Just stepping on this beautiful property, you can feel the history – and just maybe the wonderful parties and gatherings which have taken place here over the last century.  It's no wonder so many couples have chosen this setting with picture-perfect grounds and private historic home for their nuptials. In fact, the redwood tree which covers one of the wedding locations where couples say "I do" was given to the Stows on their 1st wedding anniversary.  One thing is for certain, this is a romantic wedding location with a story and provides numerous places for amazing photos and celebration.
We were so happy to be a part of Courtney and Jose's wedding and reception at this beautiful location, and the wedding menu story we created for them was definitely a nod to some delicious ranch-esque cuisine with our succulent tri-tip marinated and grilled to perfection and all of the delicious complementary accompaniments.
Menu Highlights: Hors D'Oeuvres- Tray Passed: Fresh Vine-Ripe Tomatoes, Mozzarella & Basil Bruschetta ; Hickory Bacon Wrapped Dates with Almonds |  Wedding Menu: Grilled Tri Tip Marinated & Grilled to Perfection, Chimichurri Sauce with Fresh Herbs and Olive Oil; Roasted Red Potatoes with Fresh Herbs and  Garlic Pasta with Pesto, Sundried Tomatoes & Artichokes;  California Baby Field Greens Crumbled Goat Cheese, Roasted Santa Barbara Pistachios & Fresh Strawberries with Champagne Vinaigrette; Classic Caesar Salad with our Homemade Garlic Croutons; Selection of Freshly Baked Artisan Rolls with Butter | Dessert provided by client.
Event Partner Team:  Venue:  The Stow House | Catering:  Catering Connection | Rentals:  Ventura Rental Party & Events | Photographer: Natalie Ngo | Music:  Danny Detox | Wedding Coordination:  sister of the bride, Paige Reid