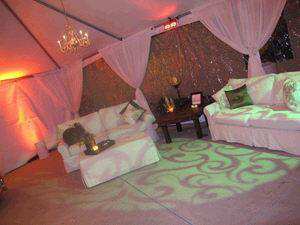 In Santa Barbara and its vicinity, many of the epic event locations are outdoors.  We can't blame our clients for choosing these incredible locations because they are positively inspirational and provide a backdrop that their guests will be talking about for a very long time.  That said, when planning any event that includes any part of an outdoor space, one always has to have an inclement weather plan built into their spending plan (budget) and be prepared.  Here is what we recommend:
Before booking your outdoor space and putting down your non-refundable deposit on the location, check to see if there is an indoor space option in the event of inclement weather.  If there is not – and this is very important– make sure that the outdoor space is "tentable".  Some spaces are not.   Ask the venue manager if they have done tenting before and if not , or they are in doubt, have your preferred rental company or full service caterer coordinate a visit to the site to measure and see what they have to work with.  There is no sense in booking a venue and having to cancel and lose all your money because there was no shelter option for your guests.  Do your homework ahead of time. Many rental companies will even allow you to place a "hold" on a tent with no financial obligation until closer to the event date.
If tenting is an option, getting a quote from your rental company (or some comps from several – ask your full service caterer to assist you) will help you understand the money you need to set aside "in case".  Try hard not to spend that money, as you will be so glad you had it if you need it,  and if you do not need it, you will have some extra money to stash away for other event elements/upgrades, some extras on your honeymoon, or invest in your future together long after the wedding /event day is over.
As the date of your event approaches and it appears there will be rain on your event date, discuss with your rental company , caterer and planner what their deadline dates are to "confirm" the tent.  Also, make sure that the type of inclement weather you are having will withstand the type of tenting you ordered.  Rental companies have all kinds of materials and secrets to secure event tenting in many weather situations, but depending on the location and type of bad weather, tenting may not work at all.  Keep asking questions and trust your professionals.
The biggest "secret to success" we can share here is that if rain is looking to be an option, every tent at every rental company in the entire county will quickly be rented and unavailable to you, so do not wait until last minute (3 days before is considered "last minute") to confirm your hold on your tent.  We recommend securing it about 5-7  days prior and sticking with your commitment.
We realize everyone books outdoor locations to enjoy the view, but here's the great thing:  your tent does not have to be a hindrance to your view:  from clear tenting to keeping the walls open last minute to let in fresh air and open air views, your tenting can enhance your event, even if it ends up not being the inclement weather anticipated.  It is far better to be prepared and your guests will thank you.  Plus, you can hang fancy lighting inside like chandeliers and other lanterns , which one cannot do when there is simply open air overhead.  Below are some tenting that one of our preferred partners , Ventura Rental Party Center offers: