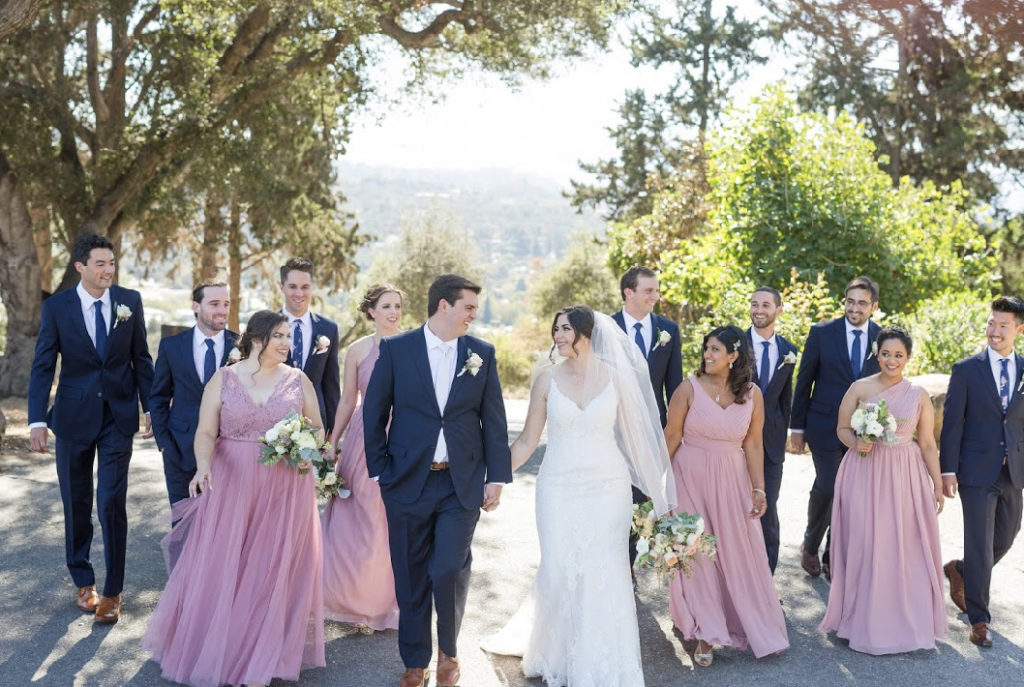 You know it's going to be a gorgeous wedding when the soft hues the bride has chosen for her maids and decor mirror that of the surrounding mountains.
But just because the colors were perfectly matched and complementary, don't let that trick you into thinking this bride and groom were pretentious and didn't know how to have fun (check out their lego art wedding art piece below).
Hosted at a hilltop bed and breakfast with panoramic views in the mountains of Ojai (just roughly a 15 minute drive from Ventura and 40 minutes from Santa Barbara), the setting provided an intimate, unique, and memorable oasis for Mirna and Casey to celebrate their vows with friends and family under the incredible Ojai skies and into the night under starry gems.   The venue, Ojai Retreat Inn, is located in the heart of the Ojai Valley and is a secluded wooded venue with meandering pathways leading to various accommodations, including a main house. Besides a beautiful private event location, it allows guests to stay on site, making the wedding event truly a destination experience. 
We loved working with this couple and helping them celebrate with a mouth-watering menu (they chose one of our signature menu items:  Beef Short Ribs Braised Cabernet Reduction and served with Rustic Mashed Potatoes with Carmelized Onion and Fresh Chives among a few other delights- see below).
Menu Highlights: Elegantly Displayed Hors D'Oeuvres Table with Warm Baked Brie with Apricots Wrapped in a Puff Pastry Crust with  Figs Served with Fresh Grapes, Strawberries and a Basket of Sliced Artisan Breads & Crackers; Imported & Domestic Cheese Display with Fresh Fruit with a Basket of French Bread and Crackers; Tapenade Trio with Toasted Bread Rounds with Tomato, Mozzarella and Basil – Green and Black Olive Tapenade – White Bean and Rosemary |  Dinner Menu: First Course: Tender Purple & Green Kale Salad with Sunflower Seeds, Golden Raisins and Dried Cherries with Lemon Pepper Vinaigrette; Selection of Freshly Baked Artisan Rolls with Butter; Entree Choices: Mouth-Watering Beef Short Ribs Braised in Cabernet Reduction with Rustic Mashed Potatoes with Caramelized Onion, Fresh Chives and Vegetable Bundle or Wild Mushroom Risotto – Creamy Risotto with Wild Mushrooms, Green Peas, and Fresh Parmesan |  Dessert:  Wedding Cake & Desserts Provided by Delicious Artistry Bakery |  Late Night Snack:  Tray-Passed  Soft Pretzel Bite with Cheese Dip
Event Partners:  Venue: Ojai Retreat Inn |  Catering:  Catering Connection   |  Rentals:  Ventura Rental Party & Events | Florist:  Exotic Green Gardens |  Music:  Renowned Events |  Photography:  Chris and Jenn Photos | Videography: Garrett Niida Weddings | Hair/Makeup:  Jackie Romero  |  Wedding Cake:  Delicious Artistry |  Wedding Coordinator:  Events by Fran