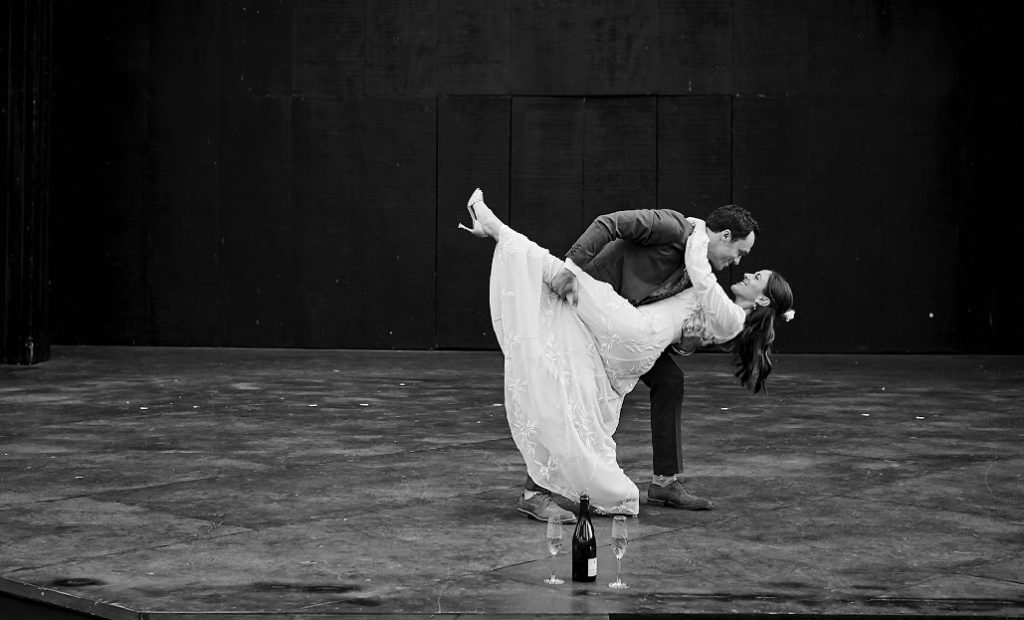 Chris and Victoria's theater wedding in Santa Barbara's wine country at the legendary outdoor Solvang Theaterfest was nearly all DIY and also one of the most charming (and dramatic) weddings we have seen in a long time.  This is a great reminder that it is all about the unique venue one chooses, delicious food and beverage experience bringing friends and family together, and a fabulous photographer to capture the memories.  Sometimes simplicity can be the most memorable, if you focus on the key ingredients (pun intended) that are most important to you and do them right.
Santa Barbara wine country (the Santa Ynez Valley) is home to incredible wineries, ranches, farms, private estates and charming inns and hotels, all of which are lovely options for weddings.  The Santa Ynez Valley is comprised of several townships, one of which is Solvang- the Danish Capital of the United States, which was founded by a group of Danish many years ago who brought their schools, houses of worship , food and more to this town.  Since then, it is a popular stop for tourists in wine country and now boasts one of the most well-known theater companies in the nation : PCPA Theaterfest.  The Solvang Theater provides theater experiences outdoors under the stars and has a charming area for intimate private events that are truly unique.
We love the menu that Chris and Victoria chose (check out the Farmer's Market Station – Solvang hosts a fabulous weekly Farmer's Market from local farms and providers), which focused on several of our specialties ( have you tried our Sweet Pumpkin Ravioli with Burnt Sage Butter?), all using the freshest ingredients and carefully crafted to inspire the palate and bring people together.
Menu Highlights: Hors D'Oeuvres: Elegantly Displayed Artisan Cheeses and Cured Meats, Salamis and Paté, Served with Crisp Cornichons, Kalamata Olives and Dates, Dijon mustard and Salted Butter, Seasonal Fruits, Assorted Nuts, Fig Preserve and Local Honey Crusty French Breads, Lavosh and Assorted Crackers | Tray-Passed Hors D'Oeuvres: Crushed Fava Beans and Burrata Crostini; Roasted Beet Crostini with Chevre Cheese, Crisp Radish and Basil Oil ; Vegetarian Arancini Balls |  Dinner Menu: Stations, including: Carving Station with Grilled Tri Tip Marinated & Cooked to Perfection, Carved to Order and Served with Zesty Gremolata;  Pan-Seared Seabass Branzino (European Seabass) Fillet with Lemon Butter Sauce, Fresh Oregano and Thyme Sprinkle; Pasta Station with  Penne with Bolognese Sauce;  Sweet Pumpkin Ravioli with Burnt Sage Butter ; Bread Sticks and Ciabatta Bread in Basket with Olive Oil & Balsamic Vinegar Cruets; Farmer's Market Station with Panzanella Salad with Cucumbers, Fresh Tomatoes, Ripe Olives, Red Onions and Fragrant Basil;  Crisp Asian Pear and Peppery Arugula Salad with Crumbled Goat Cheese, Roasted Pumpkin Seeds, Lemon-Parmesan Vinaigrette;  Vegetarian Paella with Fresh Baby Vegetables Edamame and Seared Tofu  |  Dessert provided by Solvang Bakery

Event Partner Team:  Venue:  PCPA Solvang Festival Theater  | Catering:  Catering Connection  |  Rentals:  DIY (self) |  Florals DIY (self)  |  Cake, Desserts and Mini Pies:   Solvang Bakery |  Photographer: Lauren Hurt