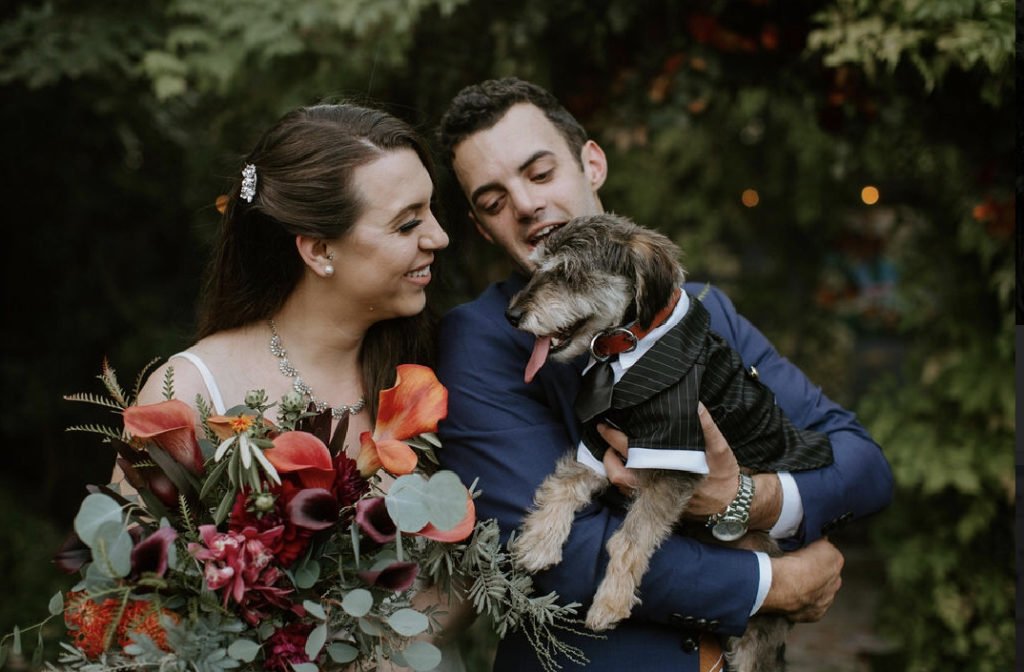 Intimate weddings held at charming B&B's have always been en vogue, but at no time have they had more popularity than right now.  Luckily, we live in a destination vacation hot spot with many charming inns and bed and breakfasts. But not all of them handle weddings, so if you are searching for the ideal intimate inn for your wedding, reach out to us and we can help guide you with some suggestions.
Shelly and Andrew chose The Lavender Inn in the mountains of Ojai (about 45 minutes southeast of Santa Barbara), and it is one of our specialty wedding locations.  Here family or a few wedding guests can all stay in the same location, making the ease of the wedding day seamless, as it is almost as if one is hosting the wedding in one's own home.  For couples whose friends and family are coming from far distances (or don't have the time to see each other regularly), this can be a welcome retreat, allowing lots of engagement and connection during the entire wedding weekend.
The Lavender Inn is conveniently located downtown Ojai, so everything is within walking distance, and yet if offers a beautiful oasis and quietude, so you'd never guess you were staying in the small downtown of Ojai.   But the main reason we love Lavender Inn for weddings is its charming garden.  Shaded by trees and providing a cool hideaway, one feels as if they are in a secret garden that has been magically charmed… especially at night when the stars come out overhead in the night sky (with little to no big city lights nearby, it's especially gorgeous).  And what are stars overhead if you can't dance under them?  Lavender Inn allows music for full boogie enjoyment and in Shelly and Andrew's case, VOX DJ's made it happen for ceremony, cocktail, dinner and dancing music with a real pro.
But since we are all about the food and service bringing people together, we love the menu this couple chose (see below) and check out the nod to the season with the tray-passed Roasted Butternut Squash Soup with Crème Fraiche and Basil Oil Swirls in Demi Tasse Cups, Warm Apple, Brie and Candied Walnut Tarts, Fall Vegetables, Sweet Pumpkin Ravioli with Burnt Sage Butter and oh so much more…..
Menu Highlights: Tray-Passed Hors D'Oeuvres:  Roasted Butternut Squash Soup with Crème Fraiche and Basil Oil Swirl in Demi Tasse Cups;  Apple, Brie and Candied Walnut Tart; Artichoke Fritters with Béarnaise Sauce  |  Plated First Course — Shepard Salad with Blue Cheese, Roasted Walnuts & Cranberries with Blue Cheese & Homemade Balsamic Dressing;   Selection of Freshly Baked Artisan Rolls with Butter |  Dinner Buffet- Grilled Tri Tip Marinated & Grilled to Perfection with Chimichurri Sauce with Fresh Herbs and Olive Oil; Chicken Picatta Lightly Breaded and Sauteed Chicken Breast topped with our homemade Lemon & Caper Sauce and Freshly Sliced Lemons; Roasted Red Potatoes with Fresh Herbs and Garlic; Fall Vegetables with Fresh Rosemary and Roasted Garlic; Sweet Pumpkin Ravioli with Burnt Sage Butter; Vegan & Vegetarian Meal (plated):  Quinoa-Stuffed Bell Pepper:  Bell Pepper with Quinoa and Roasted Vegetables Red Pepper Sauce 
Event Partners:  Venue: Lavender Inn | Catering: Catering Connection | Rentals:  Ventura Rental Party & Events |  Florist: Ojai Blooms |  Music:  VOX DJs | Photographer:  Fancy Free Photography  | Wedding Cake: Susie Cakes |  Hair/Makeup:  Glo West Beauty