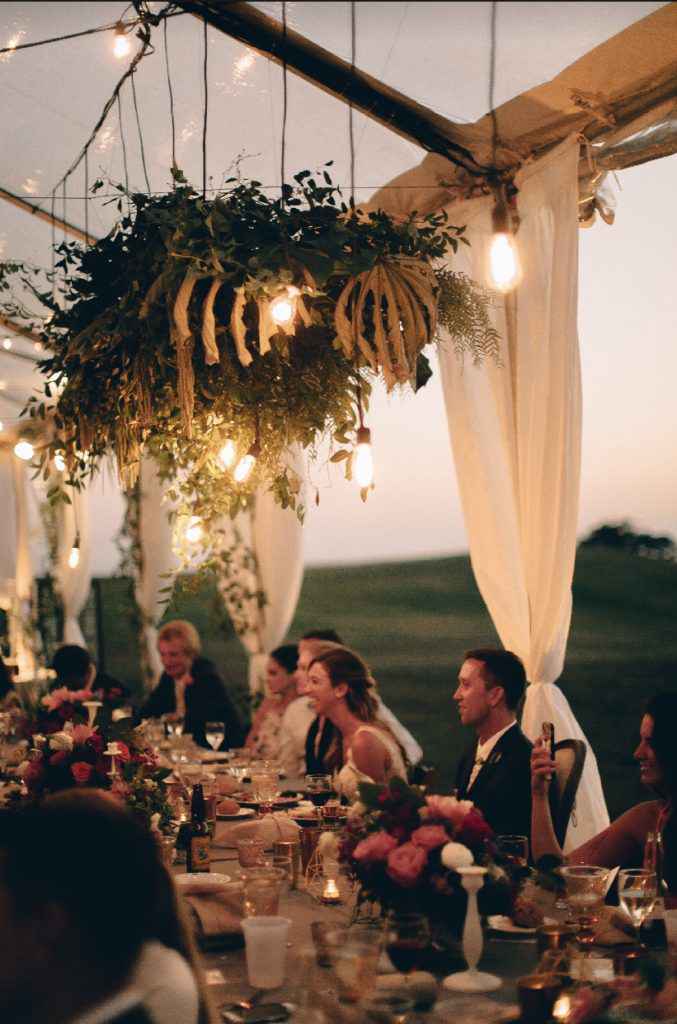 For those looking for a Santa Barbara ocean-view wedding, you don't have to book a luxury resort or hotel.  The Sandpiper Golf Course is one of the long-standing hidden gem ocean-view wedding locations in Santa Barbara.  With panoramic ocean and sweeping coastline views, it is set just a few miles north of Santa Barbara near The Ritz Carlton Bacara Resort and offers more of a quiet niche location from the downtown "hub" to enjoy relaxing and celebrating with friends and family. 
Meghann and Michael chose to have a clear canopy, which helped protect guests from the cooler evening ocean breeze, but still allowed beautiful views of the Santa Barbara coastline, sunset and evening stars overhead;  and the decor (see images below) with special touches (including signature cocktails and a darling mobile cookie cart) made this an evening to remember.  For us, however,  it is always about the guests having a wonderful time coming together and of course, the menu.  We love the months of designing and crafting the perfect menu to help our clients tell their story with food and watching the celebration unfold.
Congratulations, Meghann and Michael!
Menu Highlights:  Tray Passed Hors D'Oeuvres:   Chicken Empanadas with Chipotle Dipping Sauce; Coconut Shrimp with Spicy Orange Ginger Dip;  Sweet Potato Sticks with Fiery Chipotle Mayonnaise; Elegantly Displayed Hors D'Oeuvres Table: Salsa Bar – Traditional Salsa, Corn & Black Bean Salsa, Pineapple & Mango Salsa & Tomatillo & Apple Salsa with TriColor Tortilla Chips and our Freshly-Made Guacamole to Spice it up |  Dinner: First Course-  California Baby Field Greens Crumbled Goat Cheese, Roasted Santa Barbara Pistachios & Fresh Summer Strawberries with Champagne Vinaigrette ; Selection of Freshly Baked Artisan Rolls with Butter;  Dinner Entrées: Duo Plate- Grilled Tri Tip Marinated & Grilled to Perfection with Roasted Corn & Jalapeno Relish and Fresh Pico de Gallo, and  Spice-Rubbed Broiled Chicken Served with Chunky Apple, Onion & Lemon Pepper Sauce;   Creamy Mashed Potatoes with Roasted Garlic;  Seasonal Vegetable Medley with Summer Yellow Squash and Zucchini, Broccoli, Red Peppers, Asparagus Tips and Eggplant; Vegetarian Entree Option- Vegetarian Paella with Fresh Baby Vegetables Seared Tofu and Edamame |  Dessert:  Cookie Cart
Event Partners:  Location:  Sandpiper Golf Course |  Catering: Catering Connection  | Rentals:  The Tent Merchant | Florist:  Ella and Louie  | Lighting:  Ambient Designs |  Wedding Cake:  Solvang Bakery |  Special Wedding Cookie Dessert Cart:  Clementine's |  Music:  Gavin Roy Presents |  Photographer: Kenzie Kate Floyd | Hair/Makeup: Cheryl Nacario |  Restrooms: Major Event Trailers | Wedding Planner/Coordinator:  Leanne Cooper Elliott of Soleil Events