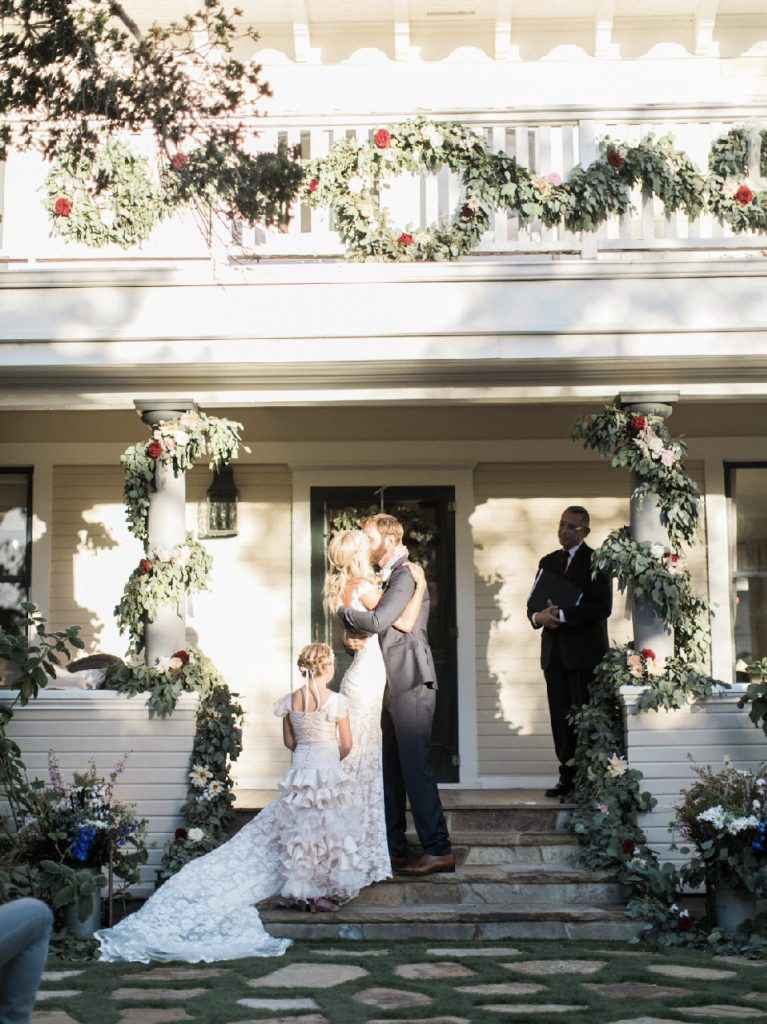 Home is said to be the dearest spot on earth.  It is where life happens.  It is a shelter, a grounding place to recoup and recover from the world, and a gathering place where those whose hearts we hold dearest come together.  It is where all the juicy goodness that makes up life happens.  So choosing to say one's vows at home makes incredible sense.  And when the home is as beautiful as Leanne and Nick's , it was the perfect setting for a heart-felt, gorgeous day of special touches and celebration.
Every part of this wedding involved family and the fundamental core of "home" , which was woven in every aspect of the decor and design by wedding coordinator Rani Hoover.  Even the wedding menu (arguably our favorite part of any event) was comfort food reminiscent of home-style favorites with a nod to traditional country fare and infused with a little Southern California flare.
We wish Leanne and Nick best wishes for a beautiful new life together and many more happy years in their beautiful home.  It was truly a pleasure catering their wedding day. 
Menu Highlights: Tray-Passed Hors D'Oeuvres: Butternut Squash Galette with Bacon & Sour Cream; Crunchy Belgian Endive with Gorgonzola, Candied Walnuts and Cranberries; Chicken & Waffle with Warm Maple Syrup Dip;  Homemade Sausage Pork-Apple Sausage with Whole-Grain Mustard & Apple Dip;  Apple, Brie and Candied Walnut Tart  | Dinner Menu- Family Style: First Course; Crisp Asian Pear and Peppery Arugula Salad (Rio Gozo Farm Baby Arugula with Pomegranate Jewels, Roasted Pumpkin Seeds and Lemon-Parmesan Vinaigrette);   California Baby Field Greens Crumbled Goat Cheese, Roasted Santa Barbara Pistachios & Fresh Strawberries with Champagne Vinaigrette; Selection of Freshly Baked Artisan Rolls with Butter |  Entrées- Served Family Style-  Grilled Marinated Flank Steak– Watkins Ranch, Grass Fed Beef Flank Steak, Grilled and Served with Caramelized Onions and Beef Jus |  Chicken Breast –Ojai Watkins Ranch, Cage Free Chicken Breast with Wild Mushrooms (Chanterelles, Porcini, Shiitake, etc…) Roasted Garlic Cloves, Taragon Sauce Roasted Red Potatoes with Fresh Herbs and Garlic Butternut Squash and Kale Gratin Grilled Asparagus with Confetti of Red Peppers | Dessert & Coffee: Whole Pies Provided by Solvang Bakery with  McConnell Ice Cream Vanilla Ice Cream 
Event Partner Cast: Venue:  Private Home | Catering:  Catering Connection | Rentals:  Otis & Pearl and Town and Country | Florist:  Riley's Flowers  |  Lighting:  SPARK Creative Events | Bar:  The Good Lion Bar |  Photographer:  Rachel Soloman |  Music:  JSH Music |  Band:  Bryan Titus Band | Cake/Pie:  Solvang Bakery |  Officiant:  Randall Day | Wedding Coordinator/Planner:  Inspired Weddings & Events