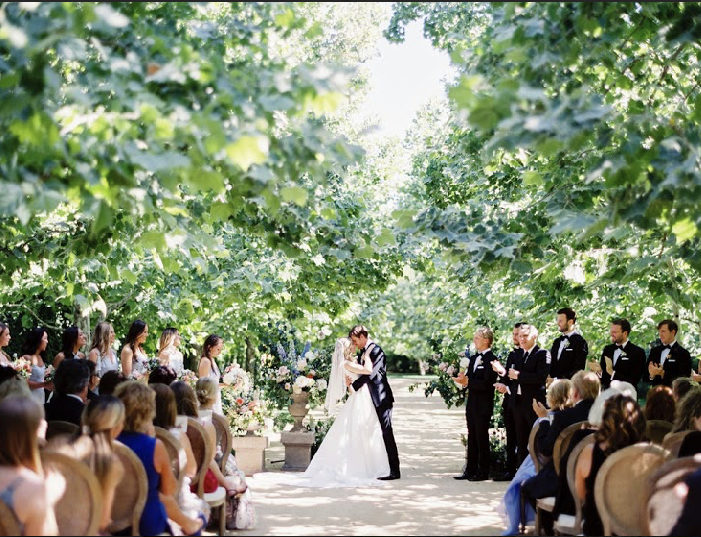 Summer of 2019 was the perfect season for Kelly and Oliver to say "I do" in the sprawling private estate and gardens of Kestrel Park in Santa Barbara's wine country.   Remotely located so one feels a complete sense of privacy, but not too hard or long for guests to travel (Santa Barbara accommodations are approximately 45 minutes away, and Santa Ynez Valley provides some lovely hotels, inns and B&Bs only about 10-15 minutes away), this private wedding location makes you feel like you have stepped across the continent and pond to France and has many layout options which maximize feel and flow as well as picturesque masterpieces.
It was a pleasure working with this couple and designing their menu /food story.  When you can't decide which sumptuous entree to offer guests, go with a Duo Plate!  Our Seared Espresso-Rubbed Petit Filet Mignon with Balsamic Glaze & Horseradish Swirl over Gratin Potatoes + Poached Seabass with Lemon Butter Sauce, Crisp Parsley Pink Salt and served on Wilted Greens pleased every palate.  You can see the rest of the menu below.
With the incomparable Ms. Rebecca Giganet from Imagine Weddings Santa Barbara at the helm planning every gorgeous detail, this was one wedding for the books!  But don't take our word for it – enjoy some of the highlight photos below.
Event Menu: Tray Passed Hors D'Oeuvres- Braised Pork Belly with Cherry Compote Served on Appetizer Spoon; Mini Lamb Kebabs Cucumber Yogurt, Mint Flakes and Kosher Salt; Smoked Salmon Lollipop with Bagel Dust; Pancetta Wrapped Peaches with Basil; Watermelon Salad with Feta Cheese, Fresh Mint and White Balsamic Vinegar Reduction | Dinner Menu- First Course- Roasted Sweet Tomato Tart with Basil, Pine Nut Crush and Goat Cheese; Second Course Crisp Asian Pear and Peppery Arugula Salad Freshly Shaved Parmesan, Roasted Pumpkin Seeds, and a Lemon-Parmesan Vinaigrette |  Entrées- Duo Plate: Seared Espresso Rubbed Petit Filet Mignon, Balsamic Glaze and Horseradish swirl, over Gratin Potatoes and Poached Seabass with Lemon Butter Sauce, Crisp Parsley & Pink Salt, Served on Wilted Greens or Vegetarian Selection (upon request) Quinoa Stuffed Bell Pepper Stuffed Bell Pepper with Quinoa and Roasted Vegetables, Parmesan Cheese Red Pepper Cream Sauce, Served Over Wilted Spinach | Dessert & Coffee: Wedding Cake; Table Service Coffee | Late Night Snack: Tray Passed Grilled Cheese- Classic American Grilled Cheese; Parmesan Crust Grilled Cheese with Fig Jam & Caramelized Onion and Goat Cheese Grilled Cheese  
Event Partners: Venue: Kestrel Park | Catering:  Catering Connection | Rentals:  Town and Country, Theoni Collection, Found Event Rentals & The Ark |  Florist: Camellia Floral Design | Lighting: SPARK Creative Events | Photographer: Jen Rodriguez | Video: Wes Films | Cocktail Music:  Tony Ybarra | Dinner/Dancing:  Dart Entertainment featuring the Half Moons 7 piece band | Officiant: Jon Ireland | Restrooms: Marborg Industries | Cake:  LeLe Patisserie | Vintage Car: Winning Makes |  Wedding Planner/Coordinator:  Imagine Santa Barbara – Rebecca Giganet