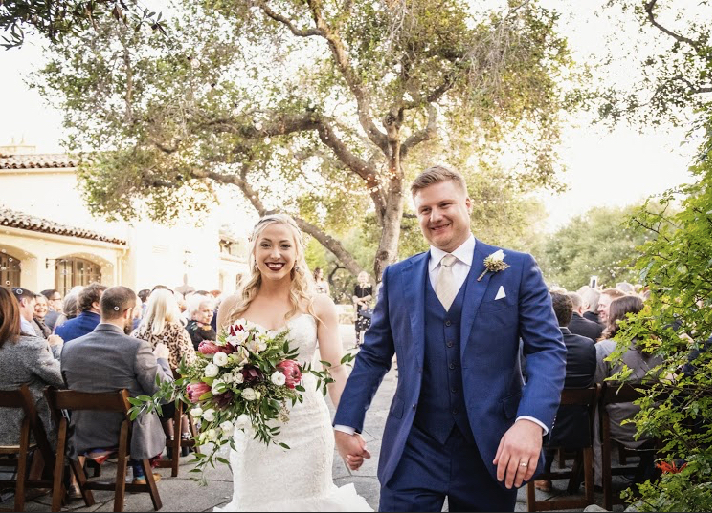 Family and friends pulled together for many elements of  Kassia and Nathan's romantic wedding at Rockwood Woman's Club (check out the gorgeous floral design).   And with one of Santa Barbara's most experienced wedding planners Ann Johnson at the helm, this event was full of charm and beauty.
Under the canopy of the historic ceremonial oak tree on the Rockwood terrace the couple said "I do" and then joined friends and family for a lovely cocktail reception, followed by an evening of dinner and dancing in the elegant vintage main indoor site.  Kassia and Nathan chose a menu which nodded to California's Spanish heritage (see below) and all topped off with a little something sweet from Crushcakes.  
Rockwood Woman's Club is a  Spanish Colonial style building secluded in the foothills of Santa Barbara, beginning the drive up to the American Riviera, just behind the Santa Barbara Mission.   Its shaded-by-trees oasis with ample, convenient self-parking and versatile lay-out combined with the gorgeous setting make it one of the most popular Santa Barbara wedding locations available.
Wedding Menu: Tray-Passed Hors D'Oeuvres:  Shrimp, Papaya and Green Onion Quesadilla; Jalapeno Poppers; Chicken Empanadas with Chipotle Dipping Sauce | Dinner Buffet:  Beef Fajitas: Tender Strips of Seasoned Beef with Sauteed Red & Green Bell Peppers, Cilantro & Onions;  Vegetable Fajitas – Fresh Strips of Carrots, Zucchini, Yellow Squash, Red & Yellow Onions, Chopped Cilantro and Red & Green Bell Peppers Sautéed to Perfection,  Flour Tortillas; Spanish Rice Seasoned with Fresh Herbs & Spices; Pinto Beans; Fiesta Salad- Field Greens with Black Beans, Jicama, Tomatoes, Sweet Corn, Olives, Topped with Crispy Tortilla Strips with Homemade Fiesta Dressing; Tortilla Chips, Salsa, Sour Cream & Guacamole | Dessert & Coffee (Wedding Cake Provided by Crushcakes )
Event Partner Credits: Venue:  Rockwood Woman's Club | Catering: Catering Connection | Rentals: Ventura Rental Party & Events | Florals: Family & Friends |  DJ:  Music by Bonnie & Co |  Photographer:  J & K Photography  |  Cake:  Crushcakes  | Wedding Planner:  Ann Johnson Events