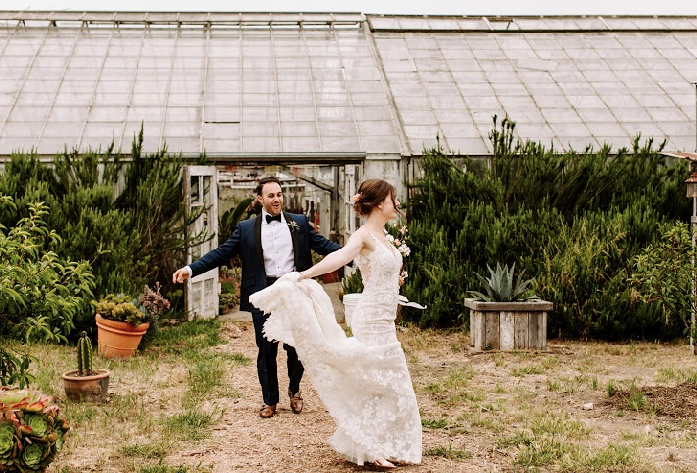 Dos Pueblos Ranch is one of Santa Barbara's most historic locations.  Once a working ranch about a century ago, it now includes several event sites – each incredibly unique (ocean view, private estate, pole barn and…. a greenhouse).  Britney and Aviv chose the gorgeous and versatile greenhouse for their nuptial celebration, which was chock full of distinct personal charm, including favorite recipes from family and the bridal party, which were shared with guests and incorporated into the event design (see photos below) and a special appearance by their beloved pooch. 
But before the unity candle ceremony and broken glass to mazel tov!  Britney and Aviv participated in the age-old Jewish wedding tradition of the signing of the Ketubah.  Typically done before the wedding ceremony in a quiet area with the bride, groom, the Rabbi (witness choices are up to bride and groom), the Ketubah is a wedding contract which explains the roles of husband and wife.  Symbolically, after signing the Ketubah, the marriage has already taken place.  The exchange of vows in front of family and friends during the more traditional marriage ceremony as we know it later is a formality with further ritual.   It is a beautiful tradition and many Jewish newlyweds keep their Ketubah and have it framed as a work of art in their home and reminder of this sacred day.
After the gorgeous ceremonial traditions, guests were greeted with beverage refreshment and delicious hors d'oeuvres, followed by a sit-down, plated menu with a choice of entree (see below to whet your appetite), including our famous Char Grilled Salmon with Chili Limie Cilantro Butter and more.  And as no fabulous event is complete without a little something sweet, guests were treated to a dessert spread by Confections by Michele.
It was a pleasure working with Britney and Aviv and we wish them much happiness in their new journey as husband and wife.  Mazel tov!
Menu Highlights: Tray Passed Hors D'Oeuvres: Thai-Spiced Pork Dumplings with Cilantro Dipping Sauce; Jumbo Cajun Shrimp; Crisp Calamari with Dipping Sauce; Grilled Portabello Mushroom- Stuffed Portobello Mushroom with Vegan Herb Stuffing and Crisp Rosemary; Tomato Soup | Plated Dinner Menu:  First Course:  California Baby Field Greens with Crumbled Goat Cheese, Roasted Santa Barbara Pistachios & Fresh Strawberries with Champagne Vinaigrette;  Selection of Freshly Baked Artisan Rolls with Butter  | Entrées Choices: Herb Roasted-Stuffed Cornish Hen with Roasted Garlic Aiolï  or Kebobs – Lamb Served Medium Rare with Tzatziki Sauce or Char-Grilled Salmon with Chili-Lime-Cilantro Butter with Roasted Red Potatoes with Fresh Herbs and Garlic  | Seasonal Vegetable Medley or  Vegetarian Option- Quinoa Stuffed Bell Pepper Stuffed Bell Pepper with Quinoa and Roasted Vegetables, Parmesan Cheese over Wilted Spinach Red Pepper Cream Sauce  
Event Partner Team:  Location:  Dos Pueblos Orchid Farm & Greenhouse  |  Caterer:  Catering Connection | Rentals:  Ventura Rental & Bright Event Rentals | Florist:  Bright Floral | Photobooth:  805 Camera Bus |  Music:  Q-DJ |  Desserts: Confections by Michele | Guest Transportation:  EOS |  Hair/Makeup:  Blush & Bangs |   Photographer:  Alexandria Monette | Wedding Coordinator/Planner:  Amber Events