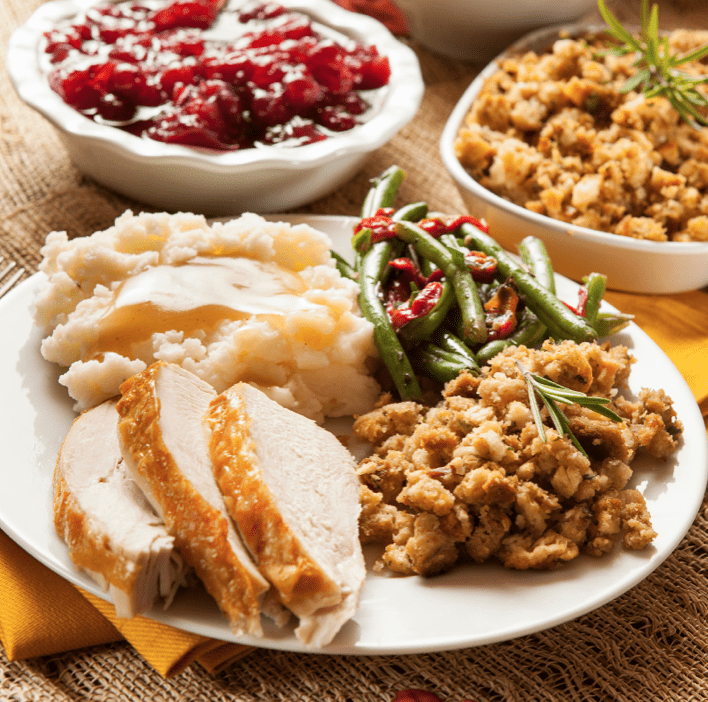 Under normal circumstances the holidays can be stressful.  But pour on a global pandemic, quarantine fatigue, families schooling and working from home, and trying to prepare one of the year's most epic American traditional favorite meals on top of it all?
Catering Connection provides a fabulous solution. Whether you want to have your entire meal prepped for you and dropped off, or if you want to supplement your own culinary plans with some items to impress, no matter what you choose, every gourmet menu item provides delectable sumptuousness that is sure to impress.   And save you time and labor.  What's not to love about that?
From pre-sliced turkey by itself, complete turkey dinners, hors d'oeuvres, salads, delicious side dishes & accompaniments like gravy and cranberry sauce to sweet treats for dessert, there is something for everyone and every taste.
Not into turkey?  No problem – check out our freezer-friendly alternative Thanksgiving options on our next post.
To peruse our menus and order:
Click on "Gourmet To Go" (on a pop up as well as under "menus" on nav bar)
Please place your order no later than Saturday, November 21st (please keep Thanksgiving orders separate from the Weekly To Go orders);
Delivery or pick up (depending on your choice) takes place Wednesday, November 25th between 1-4pm.
Enjoy every succulent morsel of gourmet goodness.
Below are some teasers of some of our more traditional Thanksgiving items: from hors d'oeuvres, salads, to side dishes, entrées and some special desserts.  Check back soon for our next post on some alternative Thanksgiving (freezable) options.
And as always, a Catering Connection gift card is a great way to show some love by giving the gift of not cooking.  Gift cards available under Gourmet To Go as well to allow those you love to choose their own options and take a break from the kitchen.