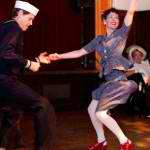 Well, a good fun murder mystery, anyway.  One of our favorite events this year included the Howard Carden School's annual fundraiser , "Murder in Swingtime".  Fundraiser Event Chair Kerry Lee Dickey of Santa Barbara Wine Country Weddings & Events wanted something fresh for a school fundraiser that actually engaged the guests with an "experience".   Turns out that this may well be the key to fundraising – we are proud to say that we helped produce an event that was one of the biggest money-raisers in the school's history.
Who:  The Howard Carden School, a non-profit private school in Carpinteria, CA.
What:  A 1940's –themed event where guests were encouraged to dress in period attire and a professional murder mystery acting troop was brought in to interact with guests and put on a guest-interactive "who-dunnit" murder mystery.  In between all the "drama" and fun there was some fundraising, of course, with successful auctions and all ending with swing dance lessons  and dancing to the big band sounds of Benny Goodman, Glenn Miller and more for the guests.
Where:  Santa Barbara Museum of Natural History
Event Supply Partners: Catering Connection, Ventura Party Rentals, LBPS Events(Specialty Lighting Design, Draping , Spotlighting & Audio), Stecker Entertainment (Music & Auctioneering), PMaxwell Productions (acting troop & story line), Classic Motoring Car Rentals (vintage car), and Santa Barbara Wine Country Weddings & Events (event planning) and all photography by Ziva Agel.
The Menu:  Rosemary Chicken Breast, Roasted Red Pepper Suace, Grilled Tri Tip, Mexican Salsa, Fresh Seasonal Vegetable Medley, Tri Color Fusilli Pasta with Garlic Cream Sauce, Shepard Salad with Vegetable Toppings and Champagne Dressing, Freshly Baked Breads and Artisan Rolls, Mini Dessert Buffet and Coffee.