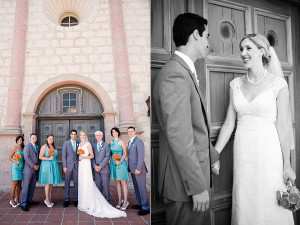 Julie and Johnny chose two of Santa Barbara's most beloved weddding locations, tying together a perfect blend of Santa Barbara tradition, architecture and soul for their wedding day.   All images by Dana Grant Photography.
Where:  Ceremony: Santa Barbara Mission; Reception:  Elings Park
What:  Wedding & Reception
The Menu:  Welcome Beverages for Guest Arrival:  Wine and Sparkling Water ;  Hors d'oeuvres included Chicken Empanadas with Chipotle Dipping Sauce, Sweet Cherry Tomato-Mozzarella- Basil Skewers with Balsamic Reduction, Bacon-Wrapped Scallops and Hummus with Creamy Herb and Tzatziki Dips with Pita and Crudite. Plated Salad: Italian Spinach Salad with Roma Tomatoes, Olives, Red Onion, and Mushrooms tossed in a Creamy Italian Vinaigrette.  Dinner Buffet: Roasted Rosemary Chicken, Grilled Salmon with Mango-Pineapple Salsa, Grilled Summer Vegetables, Sauteed Seasonal Vegetables, Wild Rice Pilaf and Artisanal Bread and Butter.  Wedding Cake offered two choices to guests:  Vanilla Cake with Fresh Strawberries and Butter Cream Frosting and Chocolate Cake with White Chocolate Mousse Filling Whipped Cream Frosting.  Cake decor was simple, as requested by the bride and included ivory roses.
Unique Touches: Mini Bottles of Bubbles for Guests to "shower" the newlyweds with as they arrived to the reception;  Specialty Bar Drinks, including Cowboy Margaritas and Loose Lips Sangria; Cake Toppper purchased at a thrift store that was a cartoon-esque caricature of a boy and girl who looked just like bride and groom; String Lights with Japanese Lanterns over the dance floor, Accent Colors of Bright Orange and Ocean Blue;  Park games & crafts for the children guests; And Small Personal Touches indicating the couple's past travels together.
Event Partners:  Catering Connection, Event Rents, AMS Entertainment, Dana Grant Photography, Zelle Olson Studios, Alpha Floral