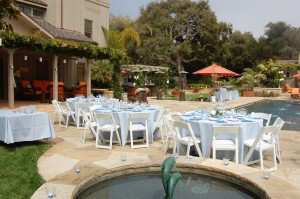 After an intimate wedding ceremony at the Santa Barbara Courthouse Gardens , Jenny and Eric invited 40 special guests to join them for a BBQ feast at their weekend getaway – Sea Ranch.
Steeped in rich California history, Sea Ranch sits on 4 acres of prime Montecito coastal land; an easy walk to three beautiful beaches and Montecito's lower village. Enter through private wooden gates. Statuesque eucalyptus, palms and oak trees stand sentry around this very private property. Rolling lawns, shaded sitting areas, and wildflower studded woods paint a rich landscape. Walking trails and wooded paths lead to the beach, and to a legendary Montecito surf spot known as Hammonds Reef.
As the guests mingled around the swimming pool, they were offered wine, champagne and sparkling water; and a selection of passed hors d'oeuvres to include: Warm Artichoke Fritters with a Tarragon Dipping Sauce, Melon with Prosciutto and a Pear & Brie Cheese Quesadillas.
The ambiance was casual and fun.  A few daring guests jumped on the trampoline, while others sidled up to the built in wooden bar to share a cocktail and a conversation.  Dinner was served a little later in the evening. The BBQ feast included Honey BBQ'd Chicken Quarters, Grilled Tri-Tip with Corn & Jalapeno Relish, Classic Caesar Salad, Buttery Corn on the Cob, Mashed Potatoes and Sweet Ranch Beans.  To top off the meal, we set up a decadent Ice Cream Sundae Bar with assorted toppings, fresh fruit and  3 types of ice cream.  The guests danced off the calories long into the evening, though we did notice a guest or two relaxing in the hammock!
Congratulations to Jenny and Eric!