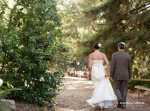 The Santa Barbara Museum of Natural History  offers some of the most amazing outdoor wedding space for ceremonies and receptions in Santa Barbara.
Today would be no exception!
On this day, we were blessed not only with a bright sunny day,  but  a slight afternoon breeze. We knew upon arrival to the venue that this wedding would be a joyous occasion for all.  As Jessica and her father walked down the earthy pathway, the sun dappled through the oak trees creating a cool shade for her walk down the aisle.  Peter, her handsome groom, waited in anticipation along with 100  guests for his bride.
After a short and lovely ceremony, the guests were offered a refreshing Sangria,  while nearby, an acoustic guitarist happily strummed Latin tunes.  The theme of the party was Mexican, so the guests were treated to a Salsa-Guacamole Bar and warm Chicken Empanadas.
Everyone was then invited to wander leisurely up to Flesichman Hall for a dinner buffet with Beef and Vegetarian Fajitas,  Chicken Enchiladas, Tacos, and all the fixings.
 After dinner, a live band spiced things up further with Classic Rock Tunes getting everyone out on the dance floor. Even Jessica's father got up on stage and played his guitar and sang for the party. The guests and the happy couple danced and danced until the absolute end. Thank you to all of our event partners who helped make this a most special of days for the family –
Austin and Dara Photography
for taking absolutely fabulous pictures, Anna's Bakery for providing not only a beautiful cake, but a tasty one.  Also, thank you to
Kaleidoscope Flowers
for helping create an atmosphere of nature and gorgeous simplicity, and to
Ventura Party Rentals
for providing the lovely linens and china.
We wish Jessica and Peter a lifetime of happiness together!