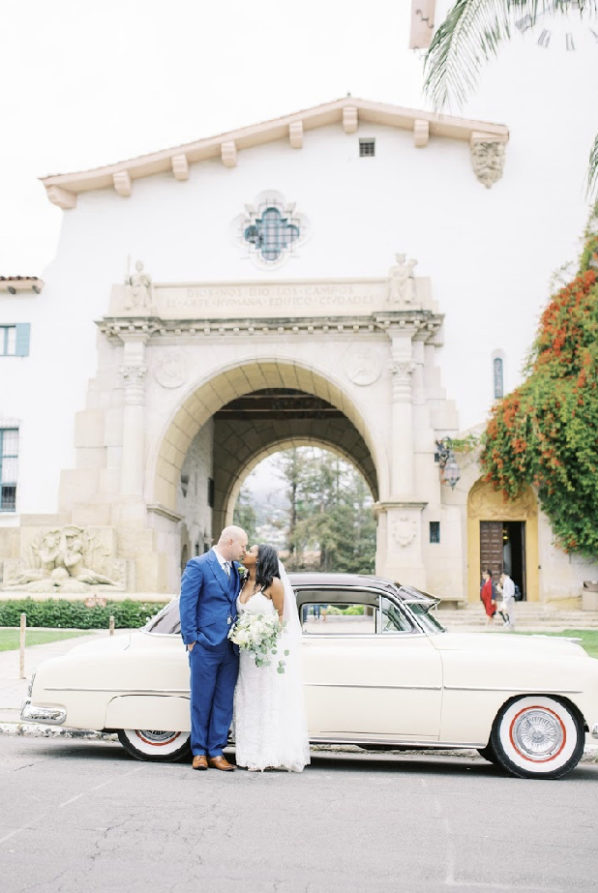 The unmistakable iconic backdrop of the Santa Barbara Courthouse and its historic Mural Room set the tone for Brooke and Brandon's emotional vows.  Meanwhile, just a few blocks away, our team was getting ready to welcome the newlyweds and their guests at the lovely Unitarian Society for a tapas-style reception in true Santa Barbara style.
Some special notes on this wedding:
The groom is a distiller on the East Coast and we loved making some of the specialty cocktails from his liquors, including The Summer Seabreeze, Amber Sunset, Rum Paradise, Pineapple Smoke, Casa de Verde (spicy margarita), and Sparkling Rose Paloma.
For dessert time, we tray-passed mini milkshakes in little milk bottles to add a little fun and guest interaction.
This wedding was so joyful and fun to produce with all the personalized touches.  We wish Brooke and Brandon every happiness in their new life together.
Menu Offerings: Tray Passed Hors D'Oeuvres: Steak Bite with Blue Cheese & Cilantro Pesto Dips; Chicken & Waffle with Warm Maple Syrup Dip; Watermelon Salad with Feta Cheese, Fresh Mint and White Balsamic Vinegar Reduction; Fresh Local Ahi Tuna Poke on Wonton Crisp with Wasabi Cream |  Stations- Quesadilla Station: Grilled Chicken Quesadilla with Queso Fresco & Cilantro;  Pear, Brie Cheese and Roasted Walnut Quesadilla;  Shrimp, Papaya and Green Onion Quesadilla; Station Condiments: Tortilla Chips, Salsa, Sour Cream & Guacamole | Tapas Style Menu- Tray-passed- BBQ Pork Sandwich Pulled Pork Slider with Crispy Slaw Chorizo Slider with Pickled Red Onion French Fries served in bamboo cones; Sweet Potato Fries served in bamboo cones | Dessert & Coffee: Wedding Cake Provided Friend of Family; Peanut Butter and Bourbon for Milk Shake (passed)
Event Partners: Ceremony Location:  The Mural Room at Santa Barbara Courthouse | Reception Location:  Santa Barbara Unitarian Society |  Catering:  Catering Connection |  Rentals:  Discount Party Rental | Florals: Jennifer Siegal Designs | Photographer: Katelyn V Photography | Music:  DJ Wayback | Hair/Makeup:  Just Lago | Attire:  Grace Loves Lace