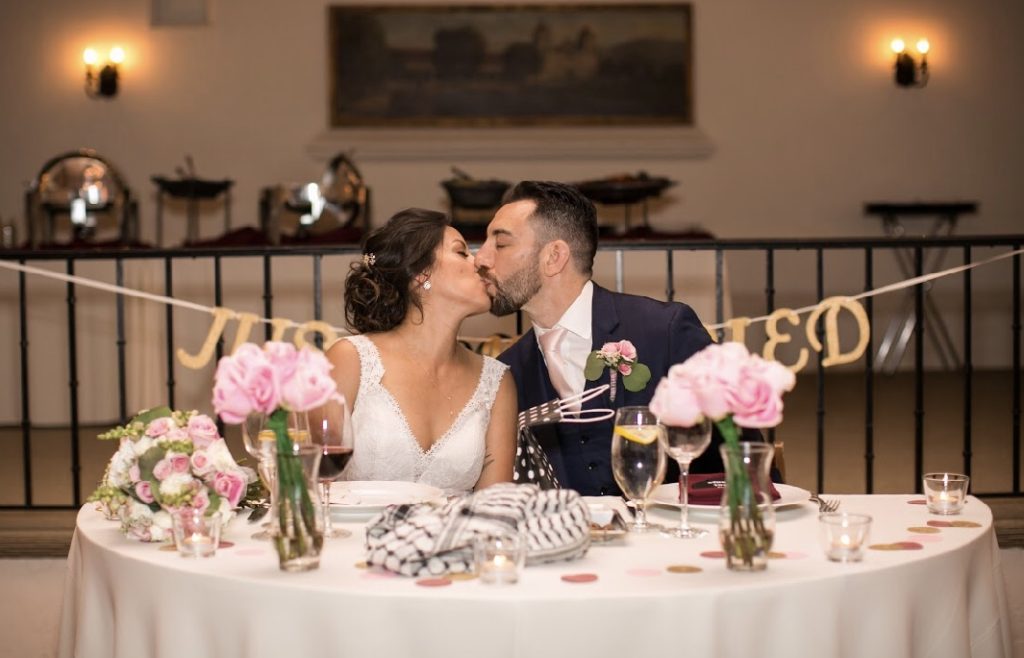 Described as "the premier wedding and event venue of Santa Barbara, Rockwood is an architectural jewel that stands secluded among the giant oaks and lush greenery of historic Mission Canyon."  We could not have said it better ourselves.   Just around the corner from the Queen of the Missions sits a venue that allows incredible layout options for feel and flow.  It is also affordable with plenty of guest parking and a blank canvas that is conducive to almost any event design plan.  And it also doesn't hurt that it is conveniently located close to many of Santa Barbara's hotels and inns for guests.
Rachelle and Jason chose a menu that paired well with the Spanish architecture in Santa Barbara and also so prominent at Rockwood.  We offered some California cuisine with touches of the local Hispanic culture and history of Santa Barbara blended in.  And then there was the dessert buffet……. chocolate ganache cheesecake anyone?
We love getting to know our couples and designing a menu that represents who they are, delights guests and also pairs well with the setting.   Congratulations, Rachelle and Jason!
Menu Offerings:  Tray Passed Hors d'oeuvres:  Mini Lamb Kebabs Cucumber Yogurt, Mint Flakes and Kosher Salt;
Grilled Chicken Quesadilla with Queso Fresco & Cilantro with Avocado Crema Swirl; Rock Shrimp Ceviche Tostada Mini Tostada Ceviche with Fresh Limes, Cilantro, Avocado and Pico De Gallo;  Displayed Hors d'oeuvres: Artisan Cheese Board with Seasonal Fruits, Walnuts, Fig Preserve, Local Honey Served with Crusty Breads & Lavosh Crackers | Dinner Menu- Dry Chipotle and Olive Oil Marinated Chicken Breast with Avocado-Lime Relish; Herb Infused Baked Seabass w/ Tomato, Onion Confit and Green Olives; Chickpea, Bulgur & Wild Rice Salad with Cumin ;  Grilled Vegetable Platter with Seasoned Eggplant, Red & Green Bell Peppers, Zucchini, Yellow Squash & Red Onions;  California Baby Field Greens- Crumbled Goat Cheese, Roasted Santa Barbara Pistachios & Fresh Strawberries with Champagne Vinaigrette; Selection of Freshly Baked Artisan Rolls with Butter | Dessert & Coffee Mini Dessert Buffet- Goat Cheese Panna Cotta, Mexican Flan, Chocolate Ganache Cheesecake and Mixed Fruit Tartlet
Event Partners:  Location:  Rockwood | Catering:  Catering Connection | Rentals:  Ventura Rental Party & Events | Florist: online |  Photographer:  Kacie Jean Photography | Music:  Jerry Rodriguez through Gavin Roy Presents |  Wedding Planner:  Dulce Dia Events