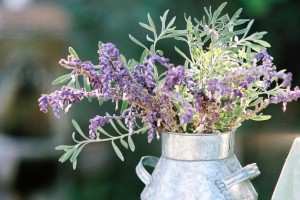 Just about 30 minutes south from Santa Barbara up in the mountains is the charming community of Ojai.  Home to the world-renowned Ojai Valley Inn and Spa, world class events and celebrities have enjoyed Ojai over the years with its almost always year-round sunny climate and small town feel.
To enjoy an intimate and unique wedding in Ojai, one needn't look further than The Lavender Inn.
One of the best things we love about this special place is the fact that guests can all stay at one location, giving the feeling of having your wedding at a private estate and stretch out over the period of several days. Its intimate and charming gardens, views of the Topa Topa Mountains and the history of this special inn only add to the picture-perfect backdrop for exhanging nuptials.
If you are looking to have a charming and intimate wedding experience at Lavender Inn, allow us to handle the details for you.  We are highly familiar with weddings at Lavender Inn, the equipment and rentals necessary as well as the best set up and menus to maximize their gorgeous location.