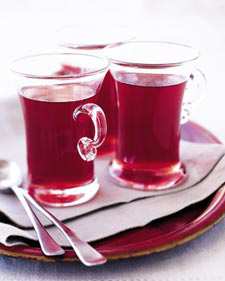 This is one of our favorite recipes for the holidays and entertaining.  It not only creates a beautiful aroma, but it's pretty and best served in clear glassware to show it off.  Plus, it's original and a fun/fresh "twist" on  traditional apple cider, thereby leaving a memorable impression on guests.
Rosy Cranberry Cider
Ingredients
 2 oranges
 2 quarts cranberry juice
 4 three-inch cinnamon sticks
 2 two-inch pieces fresh ginger, peeled and sliced lengthwise
 Sugar, to taste
Directions
With a vegetable peeler or a sharp knife, remove four 3-inch-long strips of peel from orange; set aside. Juice orange, and strain out pulp. In a medium stockpot, combine orange juice, reserved orange peel, cranberry juice, cinnamon sticks, and ginger. Taste, and add sugar if desired. Heat over medium-high heat until simmering. Reduce heat to low; simmer 20 minutes. Strain, and discard solids. Serve hot.
Serves 6-8
Inspired by Martha Stewart