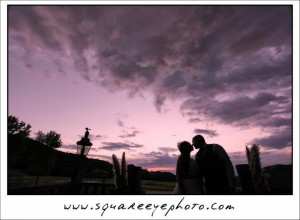 It has been said  "a wet knot is impossible to untie".  Chris and Casey chose to get married at one of the most lovely, rustic and romantic wedding locations  in Santa Barbara's wine country:  Figueroa Mountain Farmhouse.  It was all about simplicity for this sweet couple:  from choosing to get married on a weekday to keeping the guest count to an intimate 40 of their closest family and friends.  Little did they know that the first rain of the season would choose to "grace" their wedding day.  Fortunately, with a guest count of this size and the options at Figueroa Mountain Farmhouse, we were able to switch things indoors.  Right before our bride was ready to walk down the aisle, she looked outside and there were rays of sunshine – we quickly switched everything back outdoors for a lovely ceremony outdoors as originally planned and they had plenty of time for some outdoor post-ceremony photographs before the next rain shower hit, too.
Inside, feasting tables tables and a sweetheart table were elegantly set up around a cozy space for dancing.  The intimacy of this charming farmhouse feels like home and this was a perfect set up for celebrating a memorable day for Chris and Casey.
The Menu: Buffet:  Included: Grilled Tri- Tip with Jalapeno and Corn Relish, a Rosemary Chicken Breast, Roasted Red Potatoes with Fresh Herbs and some Char-Grilled Seasonal Vegetables. The buffet was set on the antique farm-table which added to the rustic flair of the occasion.
The Event Supply Partners: Figueroa Mountain Farmhouse;  Catering: Catering Connection;  Rentals: Discount Party Rentals;  Wedding Cake:  Decadence;  Photography: Square Eye Photo;  DJ: JAS Productions
Special Touches:  Very little was needed and we used the natural elements and backdrop of this incredible setting. Even the florals reflected a feeling of just having been freshly picked from the mountainside.