It has been said that a flavor a day keeps boredom at bay. And in no place more than in the world of food and beverage in the events industry do we see this.  Everyone is ramping up their "flavor profiles" , getting rid of anything artificial and branching into new world of real ingredients- especially at bars.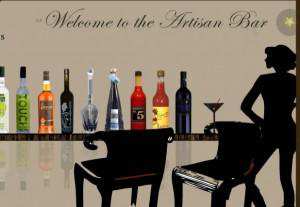 "Artisan" Bars:
Rum, vodka and gin are being infused with fresh kiwi, mango and other "house made" exotica (even dried fruit) as bartenders continue to evolve the concept of "hand crafted cocktails".
In Brooklyn, Talde,  lines its bar with beakers of honey syrup, grenadine, vanilla syrup, mint syrup, Chinese five spice syrup, citrus bitters and maple bitters, all house-made. At "Farm-to-Bar" Capo d'Oro in Los Angeles, fruits, herbs and vegetables come fresh from the Santa Monica Farmer's Market … you tell the bartender alcoholically what's on your mind and he fashions a drink from these ingredients. It's happening across the country.  The events industry is following suit, wanting to provide guests with the "wow" experience for guests and not just a standard , predictable traditional bar.
Fast Food Goes Glam
Fast food such as noodles, pizza, fried chicken , Asian, Greek food and more, events are still continuing to showcase elements of fast food for a fun and creative experience for guests.  Whether it's in passed appetizers prior to the main meal, late night snacks well into the dancing later on or the main meal itself, food trucks and fast food concepts still remain largely popular at even the most glam weddings and events.  This "trend" goes right along with the "snackification" of Americans nation-wide. Studies show we're eating less larger meals and  snacking more on little meals throughout the day and evening.
And finally, just when you think you've seen it all.  A "cupcake ATM" in Los Angeles.  For those truly wanting a unique experience for their guests at their wedding, what could be more memorable than having your dessert come out of a money machine?
But no matter what the "trends" are, the reality is that it has never been "trendy" to have everything homemade with a commitment to quality and fresh ingredients and stellar service.  While some experts say that we are "returning" to this, I believe that the true professionals in the food and beverage industry never left this time-trusted concept to begin with.
By Kerry Lee Dickey, Owner/Chief Event Planner Santa Barbara Wine Country Weddings & Events