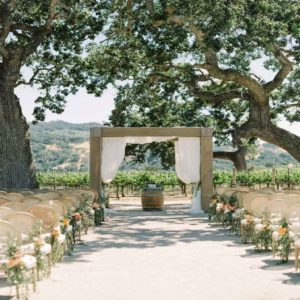 Our wedding story today starts out with three separate stages- all setting the scene for a celebration of love and triumph that lasted three days in Santa Barbara's beautiful wine country, the Santa Ynez Valley.
Like most couples, Michelle and AJ wanted something unique and to spend time with friends and family , who were all coming to their destination wedding;  however, unlike most couples, they had a special cause for extra celebration, as the the groom AJ had battled – and beat- cancer.  All event partners agreed to donate a portion of their profits to cancer research and we are proud to say that they raised over $78K, which was $38K over goal.  This three day event was truly a celebration of life and it was our honor to bring everyone together over delicious food that suited each gorgeous venue and theme.  Day One: The White Party, where everyone gathered at Sunstone Villa (wearing white of course) for some light , fun fare and games ;   Day Two:  The Welcome Reception at Gainey Winery  and Day Three:  The Wedding back at Sunstone Winery and Villa.
Below are the photos and menu highlights from each day of their life celebration.  You especially won't want to miss the incredible wine-pairing wedding dinner menu we created, including one of our favorite ways to do hors d'oeuvres:  the "welcome appetizer", a mini antipasti platter cheese and charcuterie board with fresh and dried fruits and more displayed on a board at the table for when guests take their seats.
We are happy to say that this wedding has been featured in Time, on Today, Lymphoma.org, Just Good News, and most recently on the Style Me Pretty wedding blog!
Heart felt appreciation to our Event Partner Team (who handled all three events, where applicable):  Location One- The White Party:  Sunstone Villa |  Location Two – The Welcome Reception:  Gainey Winery & Vineyards | Location Three- The Wedding:  Sunstone Villa |   Catering:  Catering Connection | Rentals: Town and Country , Archive Rentals, and LaTavola Linen |  Lighting:  SPARK Creative Lighting  |  Restrooms:   Bella Luna |  Florist:  The Flori Culture Florist |  Wedding Cake:  Solvang Bakery |  Photographer:   Justine Milton Photography  | Video:  Blue Kite Cinema | Music:  Encore Piano  |  Band:  JP Hunten Music |  Hair/Makeup:  TEAM | Security:  Triumph Security |  Transportation:  Santa Barbara Airbus | Calligraphy:  Perfect Fête Calligraphy | After-party entertainment:  El Canito Cigar Company | Wedding Coordinator/Planner: Rani Hoover of Inspired Weddings & Events
Day One: The White Party at Sunstone Villa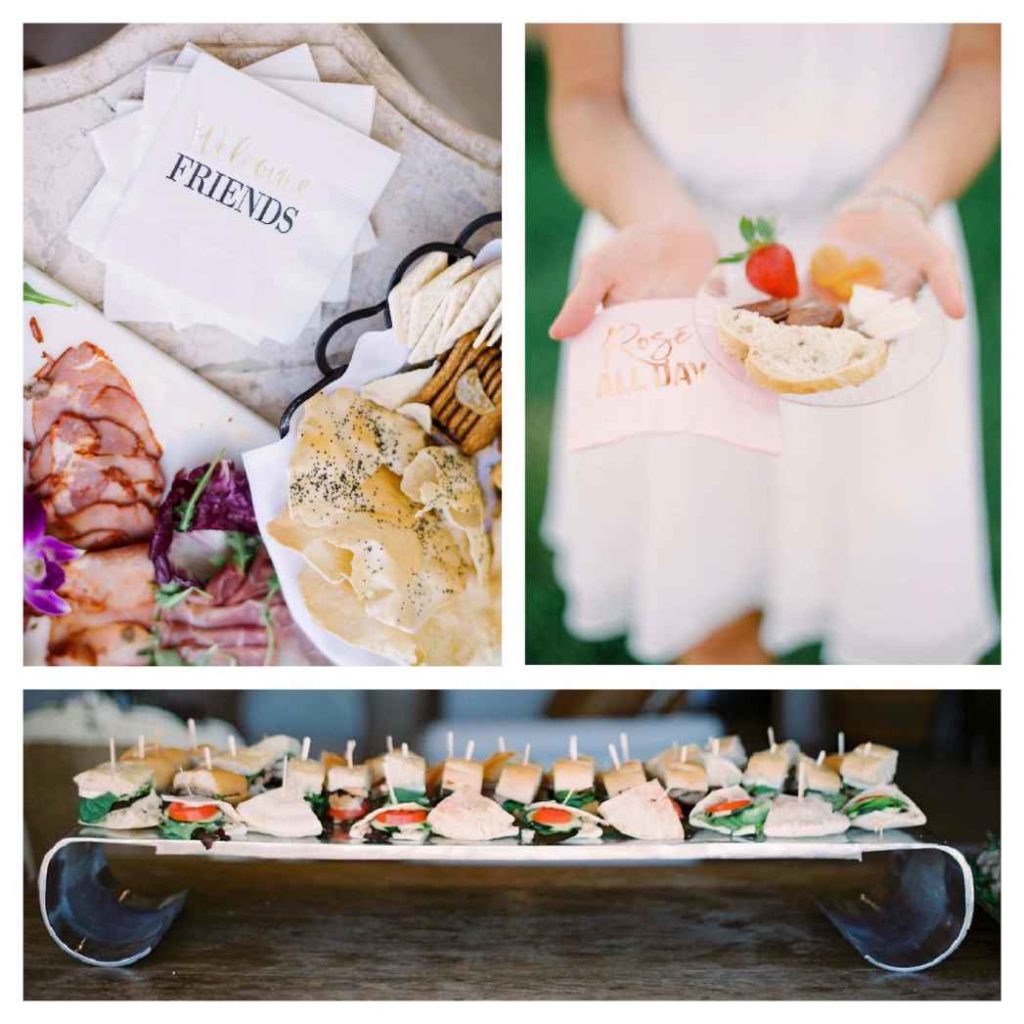 Sunstone Villa "White Party" Above:   Sandwich & Salad Buffet: Artisan Cheese Board with Seasonal Fruits, Walnuts, Fig Preserve, Local Honey Served with Crusty Breads & Lavosh Crackers; Charcuterie Display Cured Meats, Salamis and Pate, Served with Crisp Cornichons, Kalamata Olives and Dates. With Crusty French breads, Dijon mustard and Salted Butter;  California Avocado Salad Ripe Avocado, Red Onion, Red Wine Vinegar and Crushed Black Pepper; Caprese Salad Sliced Tomatoes and Fresh Mozzarella, Fresh Basil and Virgin Olive Oil; California Baby Field Greens Crumbled Goat Cheese, Roasted Santa Barbara Pistachios & Fresh Strawberries, Champagne Dressing and Grilled Chicken Slices on the Side (added protein);  Honey Ham Croissant Sandwich- Sliced Honey Ham with Swiss Cheese, Mixed Greens and Apricot Mayonnaise Served on a Flaky Croissant;  Basil Chicken Sandwich on Ciabatta Bread- Grilled Chicken Breast with Brie Cheese, Fresh Basil, Lettuce and Tomato Cut; Hummus and Pita Pocket- Homemade Hummus with Sliced Cucumbers, Red Onion, Mixed Greens and Tomato in a Whole Wheat Pita Pocket; Southwestern Tri-Tip Sandwich with Chipotle Mayonnaise & Fresh Salsa on Baguette 
Day Two: The Welcome Reception at Gainey Vineyards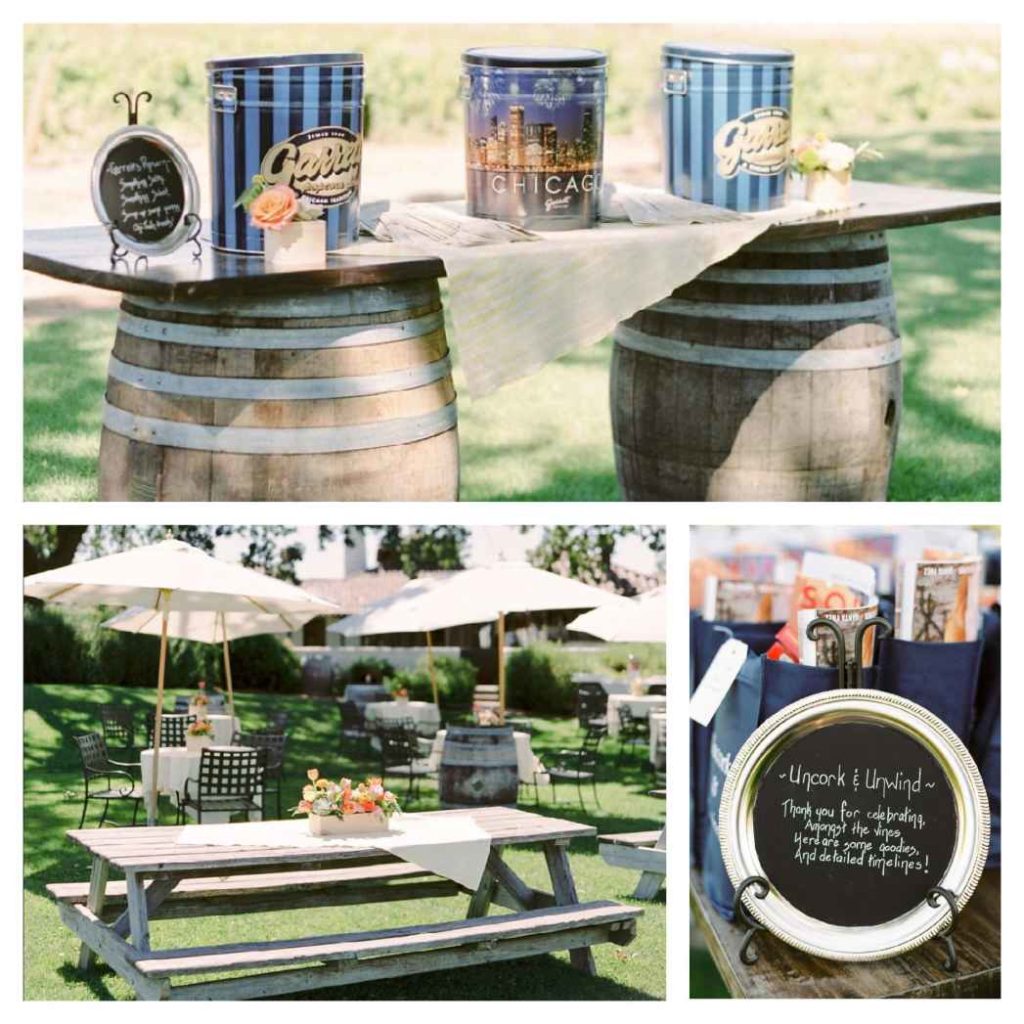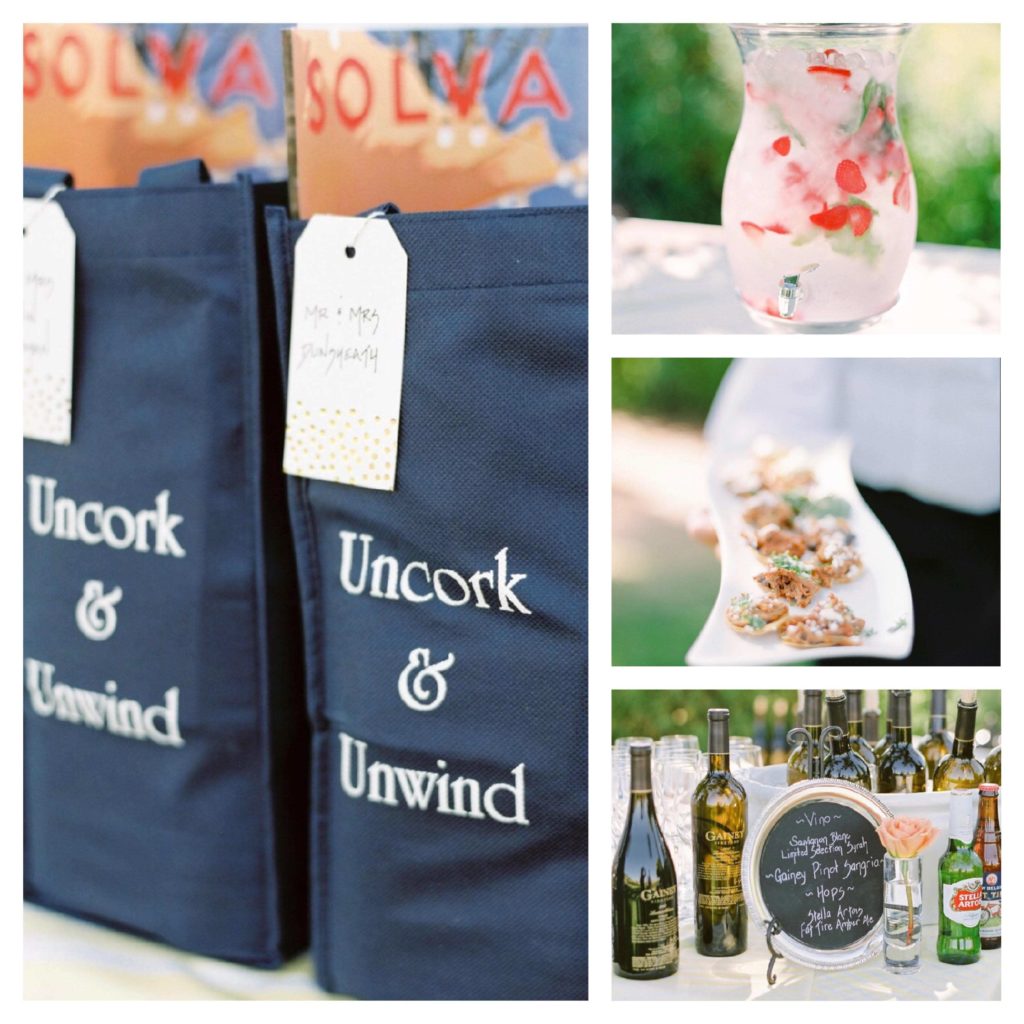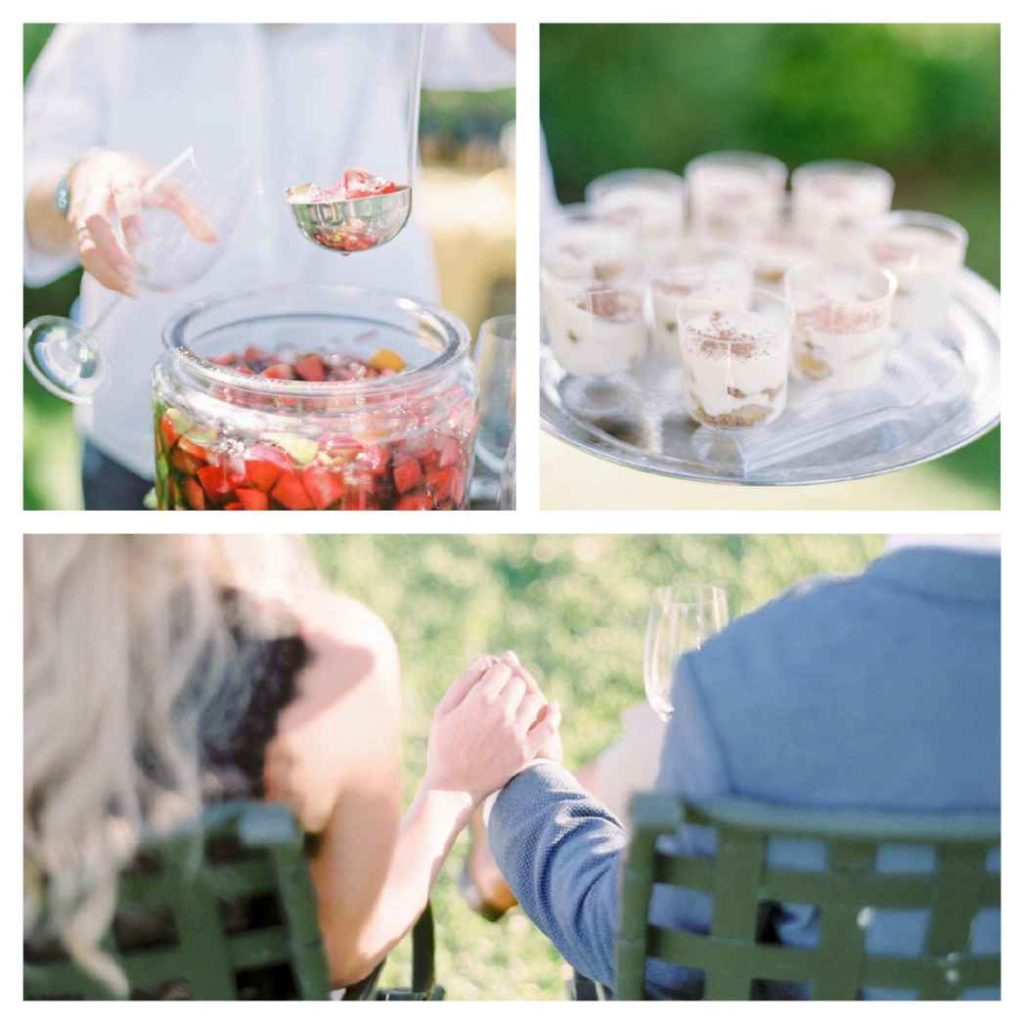 Gainey Vineyard Welcome Reception Menu: Hors D'Oeuvres: Tray Passed- Arancini with Truffle Oil & Parmesan Caramelized Polenta Round with Tomato Jam & Goat Cheese ; Mexican Bacon-Wrapped Jalapeno with Cream Cheese Stuffing ; Cuban Torta : Mini Torta Cubanas- Pork with Black Bean Mash, Queso Fresco and topped with Fresh Cilantro; Grilled Vegetable Torta; Ham & Potato Croquetas | Sweet Treats: Tray-Passed Desserts: Dulce de Leche Cheesecake Bites; Tiramisu with Raspberry Sauce; Lemon Curd Tartlets with Raspberries
Day Two: The Wedding Day at Sunstone Villa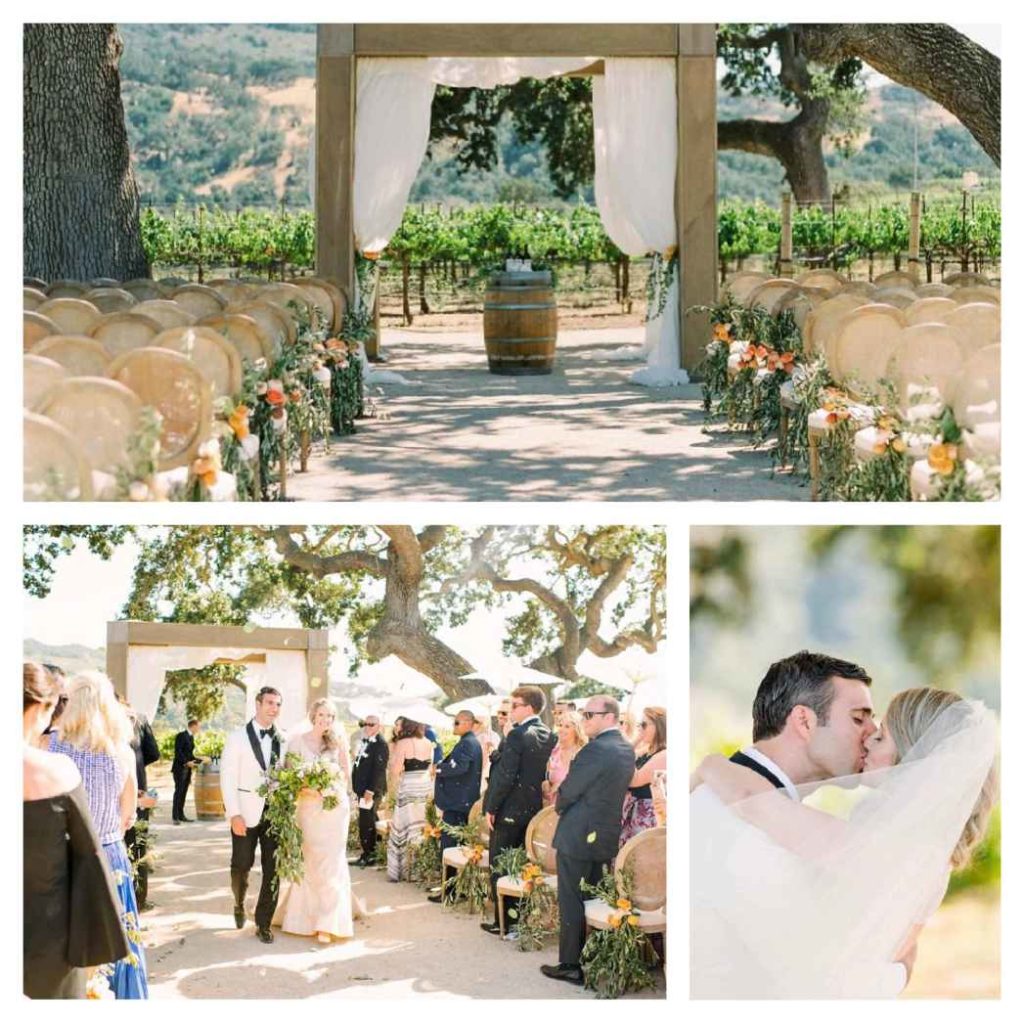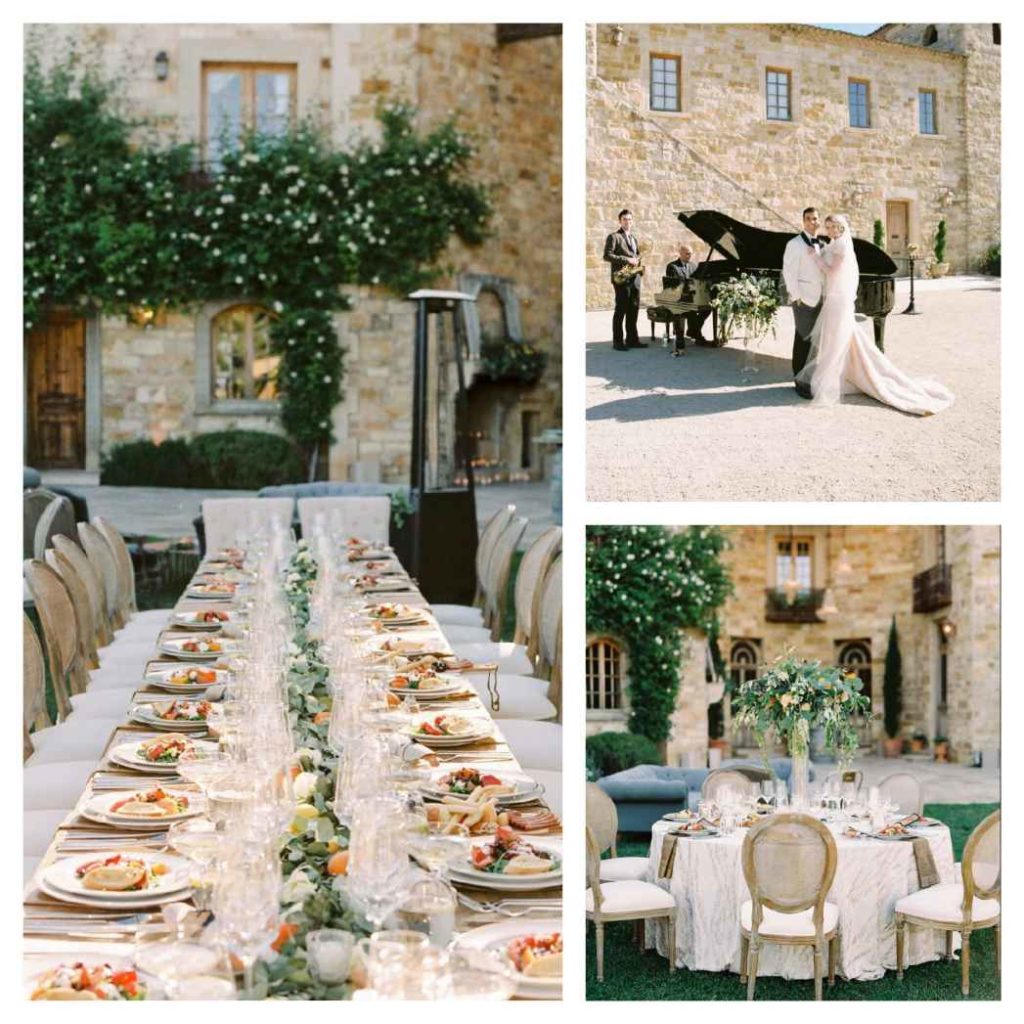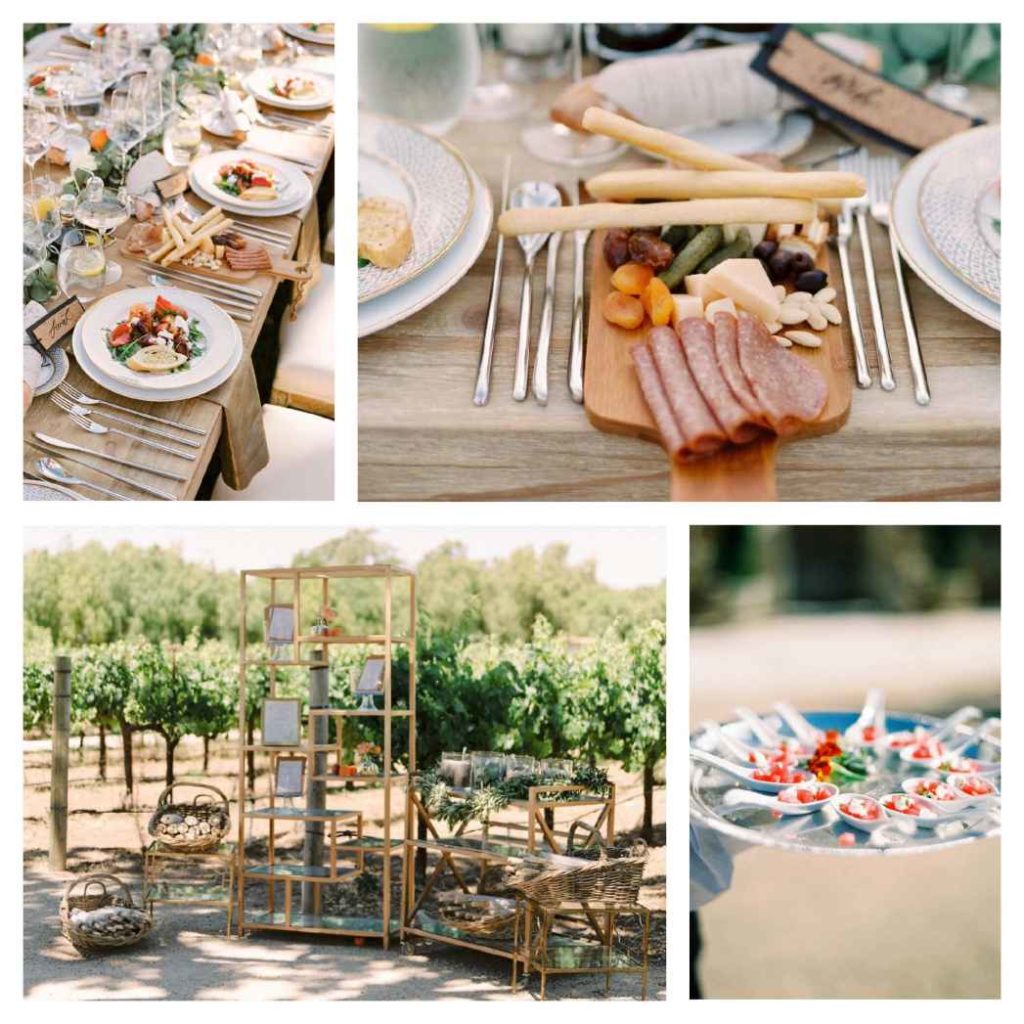 The Wedding Day Menu at Sunstone Villa:  Tray Passed Hors D'Oeuvres- Watermelon Salad with Feta Cheese, Fresh Mint and White Balsamic Vinegar Reduction on Appetizer Spoon ; Hickory Bacon Wrapped Dates with Almonds ; Melon with Prosciutto ; Fresh Figs with Goat Cheese on Belgian Endive with Honey Pecans and Port Wine Reduction ; Crostini with Pesto, Mozzarella & Confetti of Bell Peppers | 4 Course Wine Pairing Dinner- Welcome Appetizer- (served family style on 1 board per table)- Antipasti Platter Cheese & Charcuterie Board (1 per table) with Fresh & Dried Fruits, Nuts and Crips Cornichons, Bread Sticks and Pretzel Bites | Mini Baguette, Wrapped with Parchment Paper and Menu, and Placed at Each Guest Setting Butter Ramekins on Each Table with Oil & Vinegar Cruets | First Course – Tattinger Champagne ;  Caprese Salad- Grilled Summer Stone Fruits & Heirloom Tomatoes Buratta Arugula Salad – Crispy Bruschetta EVOO, Aged Balsamic Vinegar and Cracked Black Pepper | Second Course- Chardonnay Reserve 2015 | Halibut -Pan-Seared Fresh Local Halibut, Mango & Burnt Purple Jalapeno Chili Salsa, Fresh Cilantro Leaves Vegetarian Entrée Sauteed Macademia Nut Crusted Pressed Tofu, Mango & Burnt Purple Jalapeno Chili Salsa, Fresh Cilantro Leaves | Third Course- 2014 Pinot Noir – Potato Gnocchi -Sage-Brown Butter Sauce, Prosciutto Crumbs & Parmigiano-Reggiano Crushed Fried Sage | Fourth Course- 2014 Cabernet Sauvignon – Petit Filet Mignon of Beef, Seared (MR) and Served with Wine Glaze Smashed Sweet Potatoes, Edamame, Roasted Corn and Sweet Pepper Succotash, Pea Shoots ; Vegetarian Entrée to replace beef: Portobello Steak – same preparation (wine glaze vegetarian) | Dessert & Coffee Wedding Cake and Passed Mini Desserts Provided by Solvang Bakery | "Wine Down" Party: Flatbread- Cooked in Existing Pizza Oven : Flatbreads Whole Wheat Crust with Candied Tomatoes and Onions, Crisp Pancetta and "Chêvre" Cheese; Flatbreads Herb Crust with Roasted Tomatoes Sauce, Kalamata Olives, Fresh Arugula and Bufala Mozzarella (vegetarian); Flatbreads Parmesan Crust with Sautéed Mushrooms, Caramelized Red Onions, Fresh Rosemary and Grilled Sausage