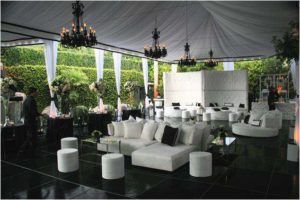 Wedding Reception Planning Tips
1. Private clubs, restaurants or hotels, which provide complete service and facilities many times can be less expensive, and be all -inclusive, keeping things easier on the task list.  Other times, they don't allow you as much flexibility as venues that allow outside caterers.  Not sure which is for you?  Ask us.  We can help.
2.  Make sure you see the actual room or location where the reception will take place.
3.  Have the room name, or description, written on your contract to avoid any confusion later.
4.  Disadvantages with private clubs, restaurants or hotels are that you must conform to their time schedule, and many times, to pre-established menus which allow little or no flexibility
5.  Private homes or gardens can offer more flexibility with regard to personal desires and time schedules. However, the burden of coordinating is on you, and may require the assistance of a wedding coordinator.
6.  Interview a few caterers and reception location managers; compare the cost and what each will provide before making your final decision.
7.  When comparing cost of different locations, don't forget to add in the cost of rental equipment, such as tables, chairs, glasses, plates, silver and serving dishes, if you are considering a location that doesn't provide these items.
article courtesy of Beverly Clark Enterprises, LLC