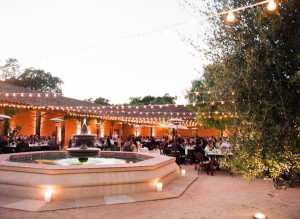 When someone comes to us and asks what Santa Barbara wedding location offers a true Santa Barbara original "feel", one of our top suggestions is the Santa Barbara Historical Museum.  This location offers two distinct areas for a ceremony and reception and the Monterey architecture and courtyard makes you feel like you've stepped back into California's history.  The backdrop is set and we've found that some fantastic lighting is all you need to make the architecture really "sing" at night and overall decor can be at a minimum.  We loved producing this Santa Barbara Historical Museum wedding.  One of the biggest pieces of advice I give clients is that when you choose a location, choose a menu that complements the location and "feel".  Our menu here is the perfect example.  Here are some of the details:
Event Supply Partner Team: Location:  Santa Barbara Historical Museum;  Caterer:  Catering Connection;  Rentals: Ventura Party Rentals;  Florist: Cana Flowers;  Wedding Cake: LaStarr & Co;   DJ/Band:  Jose Marquez;   Photographer: Beaux Arts Photographie;   Specialty Lighting:  Bella Vista Designs
The Menu: Passed Hors d'oeuvres:  Chicken Taquitos with Chipotle Dipping Sauce;  Jalapeno Poppers with Sweet Chili Dipping Sauce;  Papaya, Brie and Green Onion Quesadilla;   Dinner:  Plated Spinach Salad with Jicama, Mandarin Oranges and Almonds with Champagne Dressing;  Buffet: Grilled Salmon Filet with Tomatillo Apple Salsa;  Grilled Tri Tip with Corn and Jalapeno Relish, Mexican Salsa, Asparagus with Confetti of Red Peppers, Roasted Red Potatoes, Selection of Freshly Baked Artisan Rolls with Butter;  Dessert: Wedding Cake and Coffee.
Special Touches:   As with the suggestions on a menu fitting the location and style of the wedding location, so should the favors and decor.  Notice the darling succulents this bride used for her escort cards (also doubled as favors for guests to take home) and anytime is a good excuse for mariachis.  This was a lively, festive wedding !