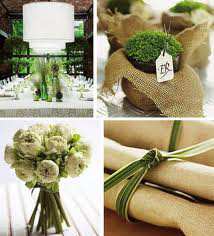 A growing number of destination brides and grooms show their commitment to each other and Mother Earth by opting for an eco-friendly wedding bash. For good reason: Besides supporting our planet, "green weddings can be more economical," says Christina Friedrichsen, founder ofIntimateWeddings.com." Here, Friedrichsen and fellow wedding industry veterans share simple steps couples can take to marry and save green.
SIMPLIFY THE DECOR. The beach or a flower-filled garden makes for a green venue that requires less energy and embellishment. "Highlight what's already there in a simple way," says Friedrichsen, author of Intimate Weddings: Planning a Small Wedding that Fits Your Budget and Style. Opt for floating, organic, locally grown blooms in glass bowls in lieu of lavish centerpieces, or go with a few elegant flowers in a vase as opposed to spending bundles on big bouquets. Having an edible decor can be fun, too, suggests Jill Meister, editor ofGetMarried.com. "Build your centerpieces around local fruit, like lemons, or use coconut or cacti to decorate."
GO LIGHT ON THE MENU. Cut down on cost-and waste-by serving less food. "Place the emphasis on one great entree and one great dessert," recommends Friedrichsen. Or stick to a light cocktail menu that pairs a few tasty appetizers and drinks. Choose menus of free-range meats, fish that's not endangered and low in mercury or meat-free dishes. Serving locally grown food eliminates fuel reliance and supports local farmers.
CUT THE CAKE. Literally. Customized and multilayered wedding cakes typically cost a lot and leftovers are usually thrown away. Unless a cake is included in your wedding package, look for a smaller one made by a local baker; this way you also support the local economy. A wallet-friendly alternative: replace the cake with organic cupcakes.
RIDE GREEN. Having the ceremony and reception at the same location, or within close proximity, will limit travel impact and expenses. If the distance between venues is too great to walk, hire an earth-friendly shuttle service for your guests, like a trolley or rickshaws (bike cabs), or rent bicycles.
DO IT YOURSELF (DIY). When it comes to saving money, New York-based planner Lisa Light, author of Destination Bride, points to the growing trend of DIY weddings-some brides design their own stationery, jewelry and decor elements. "Couples are very creative, using their own talents and asking other people to help." At the end of the day, you'll have a greener and more meaningful celebration.
SAVE ON STATIONERY. Your wedding invitation sets the tone for your big day, but that doesn't mean it has to cost a fortune-or pollute the environment. It's easy to find recycled paper options for invitations, save-the-date cards and menus. Or go for the e-cards. Another affordable and green alternative: Through Etsy Alchemy(etsy.com), couples can commission their green wedding stationery and have artists bid on the project.
WEAR VINTAGE. Brides can buy pre-owned wedding dresses and accessories for a fraction of the cost at sites likeVintageous.com andEncoreBridal.com. For those who'd rather not wear a used gown, companies such as Natural Bridal Collection(naturalbridals.com) and Rene Geneva Design (renegenevadesign.com) use such sustainable materials as peace silk, bamboo and organic linen and cotton. Conscious Clothing(getconscious.com) creates hemp gowns and suits that add style to sustainability. With destination weddings requiring less formal wear, economical options abound, says Meister. "You have less heavy materials and shorter hemlines, which is hot right now with weddings in warmer climates."
BE CONFLICT-FREE Look for diamonds that come with the internationally recognized Kimberley Process certificate, proof that they are free of conflict. Jewelers like Brilliant Earth(brilliantearth.com) and Tiffany & Co.(tiffany.com) work with suppliers who practice green, humane mining. GreenKarat(greenkarat.com) uses recycled gold. Consider a less expensive and highly durable gemstone like moissanite or check out Gustav Reyes' exquisite wood creations(simplywoodrings.com). Shop for vintage jewelry or wear wedding bands passed down from a family member.
DO YOURSELF A FAVOR. Homemade favors with personal flair are always a hit, like a booklet of family recipes or a CD with songs played at the ceremony. Then again, not having favors for a destination wedding is perfectly acceptable. "For many couples, it's a waste of money," attests Friedrichsen, who proposes consumable favors inspired by the location.
GIVE SOMETHING BACK. Suggest that your guests make a donation to a charity in your honor. For inspiration, visitWeddingListGiving.com orGoodGifts.com. Or fill your wedding registry with gifts that keep on giving. Sites such asGreenFeet.com,VivaTerra.com and RegisterLocally.com offer a mix of items that are fair-trade, organic and locally handmade.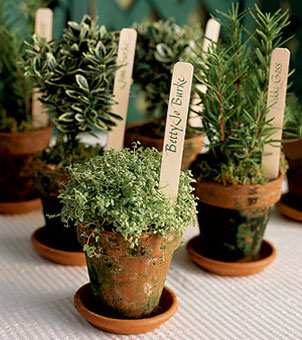 Article courtesy of Elite Wedding Collection, WeddingLocation.com , divisions of Beverly Clark Enterprises, LLC.  Author:Isabelle Gullö