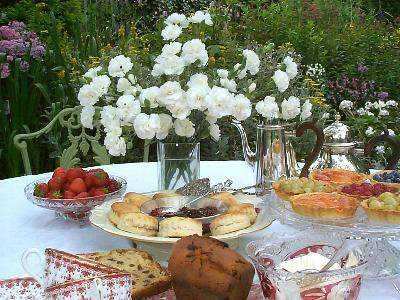 We have had in increase in requests for tea-related events.  Whether they be bridesmaids luncheons, baby showers, graduation parties , rehearsal "lunches", or birthday parties, Santa Barbara is always a perfect location for a celebratory tea party.
It has been said that "tea is just so civilized".  With vintage events being in the full swing of  popularity, there is a return to some of the traditions of a bygone era.  There is nothing so wonderful as taking time out of the day to put the world on pause and enjoy a cup of tea.  "Tea" is almost a verb.  When you fully understand that tea is an experience– almost a meditative ritual – then one can almost  use the word tea in the context of an action: for example,  "I was 'tea-ing' with my friend yesterday" suddenly makes perfect sense. And it certainly must be something extraordinary if many British employers actually allow a work break for tea.
How the Ritual of the English Tea Got Started.
In the 19th century, tea consumption increased significantly and the 7th Duchess of Bedford, Anna, is said to have complained of havng a "sinking" feeling in the late afternoon.  At that time in society, it was customary for people to only have two meals a day:  breakfast and then dinner, which was around 8:00pm.  To solve her "sinking" feeling, Duchess Anna took to enjoying some tea and a light snack in her private boudoir daily around 4pm.  She so enjoyed this new ritual, she continued it when she returned to London city, now asking for her friends to join her for tea and a "walking in the fields".   The idea spread like wildfire to other social hostesses who took the idea and ran with it and suddenly it was acceptable to have tea in the drawing room and not in one's boudoir.  Before long, anyone who was "anyone" in high society was enjoying this new "trend".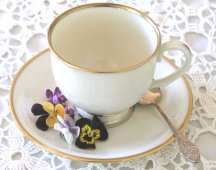 In the UK, tea generally consists of black tea served with milk (never cream), clotted cream on scones with strawberry jam.  While there are traditional menus for tea with some adaptations by Americans, tea is most of all an experience and a time to rest, savor something delicious and refresh.  For private events where the tea is the main meal, we have all sorts of hearty tea-menu ideas that will leave your guests feeling satisfied and impressed.  For a complete proposal for your tea-event, contact us:  805.566.1822.
 Traditional Afternoon Tea: Menu Suggestion
Sandwiches (a mix of granary and white breads):
 Cream cheese & cucumber
Smoked salmon with lemon crème fraiche
Free-range egg & cress
Smoked Norfolk ham & mustard
 ***
 Home-made cakes and dainties:
 Chocolate cake
Coffee & walnut cake
Cherry & almond cake
Pear, raspberry & white chocolate cake
Mini scones with strawberry jam & clotted cream
Hazelnut meringues
Chocolate-dipped strawberries
***
 Freshly brewed tea, coffee and herbal infusions
 ***
Jugs of iced cranberry & raspberry juice; sparkling elderflower cordial