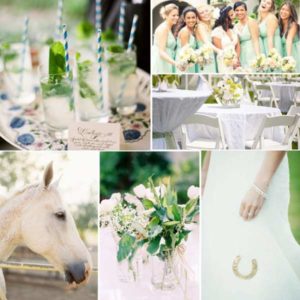 With the gorgeous late spring warm weather right now, we are particularly inspired by mint.  Whether it be the classic mint julep or a mint champagne, mint is never out of style.  For summer events, having a signature cocktail where the presentation includes mint is always a refreshing welcome for guests.  There are many non-alcoholic mint beverage options as well. But there is something about the classic mint julep that is elegant, refreshing and a bit unexpected at an event because few actually choose this as a signature drink for their celebration.  With the hot weather of summer, it makes a stellar presentation as well as a soothing option for guests.
When making a Mint Julep, use crushed ice, and pack into the cup tightly to keep the drink very cold, causing the cup to frost evenly. (Hold the cup at the rim while making to avoid fingerprints on the frosted cup.) To make crushed ice: Fill a 1-gal. heavy-duty zip-top plastic bag half full with ice; seal. Crush ice using a rolling pin or heavy skillet.
Recipe for Classic Mint Julep
Ingredients
3 fresh mint leaves
1 tablespoon Mint Simple Syrup
Crushed ice
1 1/2 to 2 tablespoons (1 ounce) bourbon

$

1 (4-inch) cocktail straw or coffee stirrer
1 fresh mint sprig
Powdered sugar (optional)
Preparation
Place mint leaves and Mint Simple Syrup in a chilled julep cup. Gently press leaves against cup with back of spoon to release flavors. Pack cup tightly with crushed ice; pour bourbon over ice. Insert straw, place mint sprig directly next to straw, and serve immediately. Sprinkle with powdered sugar, if desired.
Note: For testing purposes only, we used Woodford Reserve Distiller's Select Bourbon.
Note: Leftover simple syrup keeps refrigerated about one week and perfectly sweetens iced tea.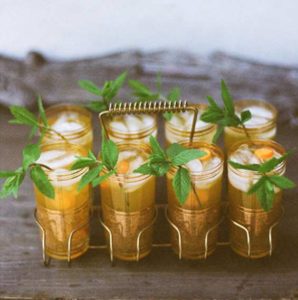 Above all, don't forget the presentation!  How you present your mint juleps can be half the "wow" factor for your guests!