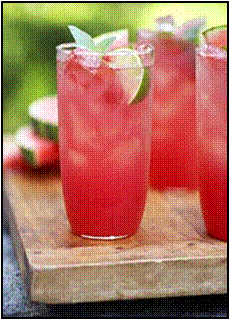 With Memorial Day this weekend being the gateway to summer , we are particularly inspired by those menus and beverages which sing with summer inspiration.  One of the best ways to welcome in summer or to add some fun and relaxing refreshment to entertaining is to take an old traditional favorite and have some fun with it.  And what two things could go better together (or say "summer fun") than watermelon and a margarita.  How about putting the watermelon in the margarita?  Well, that's what we've done here with this fun recipe for your summer entertaining.  Enjoy!
3 Pounds Watermelon (with Rind)
Simple Syrup-Combine Sugar and Water and bring to a boil. Cook while stirring for 3 minutes until sugar is dissolved. Cool. Margarita Mix-Remove Watermelon Rind, cut into chunks & remove seeds. Blend to a smooth puree in a food processor or a blender. Strain. Should yield about 3 cups of liquid. Add Simple Syrup Mix to Margarita Mix and add Lime Juice & Tequila. Stir and transfer to a pitcher.
To Serve –Pour Watermelon Mix in Tall Glass add One Sprig of Basil to Each Glass & 1 Shot of Tequila. Stir and ENJOY