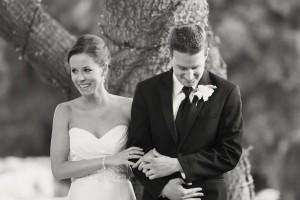 Santa Barbara wedding locations: world-renowned beach resorts, historic boutique resorts,   and then little delightful "hidden" gems like Rockwood nestled under the shady  trees behind Queen of the Missions in America's own Riviera:  Santa Barbara.  We are privileged to work at nearly all of the leading wedding venues in this world-renowned town and one of our favorites is the lovely, understatedly elegant Rockwood.
Julie and Chris were an absolute pleasure and so were their families.  We wish them congratulations and best wishes in their new life together.  Thank you to Glass Jar Photography, whose images grace this page.
Event Supply Partners:  Venue:  Rockwood   Catering: Catering Connection   Rentals:  Ventura Party Rentals    Wedding Coordination:  Event of the Season    Officiant:  Saral Burdette   Photography:  Glass Jar Photography   DJ: Gavin Roy Presents   Florist:  Family Friend  Cupcakes:  Pattibakes    Hair & Makeup:  TEAM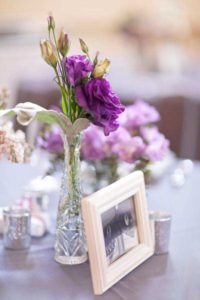 Special Touches:  We loved the bride's unique and personal touch to cocktail hour.  She offered a microbrew beer tasting and served it in mini shot glasses and offered a special margarita with orange beer topper instead of Grand Marnier which made it sparkle!
The Menu: Hors d'oeuvres: Salsa Bar: Traditional Salsa, Corn & Black Bean Salsa, Pineapple & Mango Salsa & Tomatillo & Apple Salsa with Tri-Color Tortilla Chips and Freshly-Made Guacamole;  Tray Passed Hors d'oeuvres: Chicken Empanadas with Chipotle Dipping Sauce and a Pear, Brie Cheese and Roasted Walnut Quesadilla
Dinner: Salsipuedes Buffet  Beef and Vegetable Fajitas with Warm Corn and Flour Tortillas Spanish Rice with Fresh Herbs & Spices; Pinto and Black Beans Medley; Fiesta Side Salad with Tortilla Crisps; Tortilla Chips, Salsa, Sour Cream, Grilled Jalapenos & Guacamole